Ask Goodwin - What's the best motoring event you've ever been to?
Bored of F1? Had enough of Goodwood? Touring cars no longer your thing? Here's Goodwin to help you.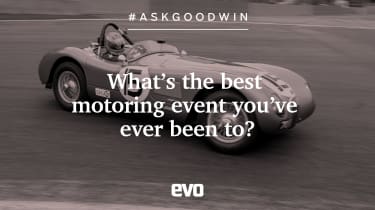 I've been following your series in the magazine of 'Off the beaten track' events. What's the best motoring event you've ever been to? - Henry Pike, Birmingham
I'm very easy to please. As with magazines, sometimes it only takes one very interesting feature to make the whole trip worth while. I prefer low key events, not least because they are often cheaper and less hassle to get into. Last Spring I flew out to Spa to watch Dickie Meaden race a Rover SD1, Elan and Lotus Cortina and that was as much fun as I've had in years. A fantastic paddock full of my favourite sort of racing cars and plenty of Belgian beer.
If you haven't been to the Isle of Man TT race you really ought to, even if you have no interest in bikes. I now go every year because in this world of health and safety and nannying it is a tonic to those of us who understand the concept of judging risk yourself and weighing up the odds. Apart from watching at one of the faster parts of the course, I always try and watch a start from up on the Glencrutchery Road. The tension, especially before the start of the Senior race, is unbelievable. Like men about to go into combat, which in a way they are.
Another two-wheel event that's worth a visit is the Le Touquet beach race. Run on the huge beach at the French resort on the Channel coast (less than a couple of hours drive from Calais), it is a couple of hours of madness as over a thousand moto cross bikes plough through the dunes. It's carnage: I've never watched an event that I'd less like to take part in. 
I'm struggling to narrow down a lifetime of events into one answer. I think heaven is a historic event on the Brands Hatch grand prix circuit, a bag of sandwichs and a good viewing position between Paddock Hill and Druids. A full programme of Can-Am and historic F1 would be perfect. I remember a sunny day in the 1980s with all those components in place. That'd do me. What's yours?