The best Instagram accounts for evo readers to follow
You're already following evo on Instagram, right? Here are a few other accounts we recommend you follow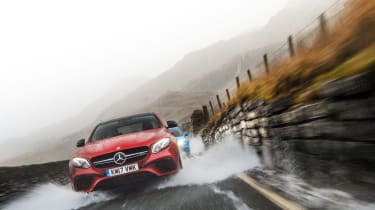 We might be biased, just slightly, but evo's own Instagram account is by far the greatest, most exciting account you can follow. We post some of the best pictures, including some of the most desirable cars being driven in the most exciting manner. There's also the occasional behind-the-scenes shot that gives you a glimpse into what our writers and photographers do in their day jobs.
Once you've started following us and the people you're obliged to follow – you know, your friends, family and that account that your sister's best friend runs where she pretends that her mini dog uses it's tiny paws to post its own selfies – you're still going to want a little more car content filling your feed. Man cannot live on evo's Instagram alone…
So here's a selection of the evo team's favourite Instagram accounts that you might not already follow. From old-school race shots to just pictures of the front of cars, there will surely be something else to make your social media that bit more interesting. 
And if they aren't enough to inject some much-needed petrol into your feed, at the bottom you'll find the evo team's individual accounts so you can see what we drive, own and work on.
Evo's favourite Instagram accounts
@iamthenosehunter
Just the noses of cars peaking into frame from the top. It's a slightly odd angle to snap a car, but seeing a feed full of similar shots showing a variety of cars from a Volvo 850 T5R to a Renault F1 car, is deeply satisfying.
@engineeredtoslide
If you're a fan of ground-up car builds done to exceptionally high standards, skilled fabrication and cars that are driven properly, you'll like @engineeredtoslide. The semi-space framed S14 Nissan Silvia with enormous open inlet trumpets is wonderful.
@perfectionvalet
What Richard Tipper, the man behind Perfection Valet, can't do with some water, car shampoo and polishing compound isn't worth knowing. Add into the mix an eye that can spot a tiny spec of dirt from ten paces and you get results that certainly justify his company's name.
@areyoureadyforthebreadie
We'll admit, we don't understand the name of this account. However, it's full of 70s and 80s touring cars and rally cross cars being driven absolutely flat out, just as they should be. 
@instaroads
Scenic images of all the roads you ever dreamed about. Be warned, this account will have you booking Euro Tunnel tickets quicker than the next image will load.
@carstakeflight
It started off with just Porsches yumping, but has now expanded into all makes and models taking off over crests and bouncing off curbs. Plenty of evo's images make their way into the feed too, so whoever's curating it definitely has taste.
@tennster
Car culture isn't the first thing that springs to mind when you think of Thailand. And, what you're probably thinking isn't appropriate for this page either. Anyway, @tennster and his collection of cars – mostly aircooled Porsches – that get driven and used will begin to change your perception of Thailand.
@vhs_refresh
You'll undoubtedly have heard of Best Motoring and Hot Version, if not you need to do some very serious research on YouTube immediately. We'll wait… Ok, now you're up to speed you'll want something to remind you of those fuzzy 90s Japanese car shows, this account is perfect for that.
@nurburgring_tankstelle
Few places get the blood of a petrol head rushing quite like the Nurburgring. This account post photos and videos from the Green Hell daily – expect lots of pictures of BMW M3s and Porsche 911 GT3 RSs barreling through the Carousel or flat over Quiddelbacher-Hohe.
@hellcousteau
Not many cars from this account but lots of beautifully designed helmets. Whether it's quirky patterns on Arais or race liveries on AGV helemts, you'll want all of them.
@asphaltheritage
In a dream world we'd all spend our time driving around France in road-going Group B rally cars, 70s sports saloons, small Japanese roadsters and a BMW M1. We'd go out in any weather, go in convoy with all our friends and get them as dirty as we like. Welcome to the world of @asphaltheritage.
@officialoctanemagazine
There are lots of classic car Instagram accounts, but none feature such a wide variety of cars and quite so many quality images as Octane. Whether it's Testarossas in the Sahara desert, 1892 Peugeots or Porshe 911 RSR Turbos, evo's sister magazine's account is truly eclectic.
The evo team
evo, @officialevomagazine
Stuart Gallagher, Editor @stuartg917100
HDR filters and big cars on small driveways.
Adam Towler, Deputy editor @adamtowler
What Adam's currently driving. So not many pictures of his own 205 GTI or 996 911.
Ian Eveleigh, Managing editor @ianeveleigh
No one loves a car in front of a sunset more than Ian. You can expect the occasional a picture of a cat, too.
Aston Parrott, Staff photographer @astonparrott
Much like evo's Instagram feed (you can tell who posts the most on our own account) only there's more aircooled 911s.
Antony Ingram, Staff writer @antonyingram
Surprisingly few small, obscure Japanese cars. Instead there's plenty of evo metal, usually shot in profile.
Will Beaumont, Staff writer @will_beaumont88
Cars going sideways and old BMWs, but as his own cars don't move under their own power, not all in one shot.
Jordan Katsianis, Content editor @jordankatsianis
What it's like to be a car enthusiast and live in London, he spots some great cars hemmed in by big buildings.