Perfecting the five-seater sports car (sponsored)
The original Cayenne redefined what you could expect of a five-seat sports car. The superb all-new Cayenne continues to raise expectations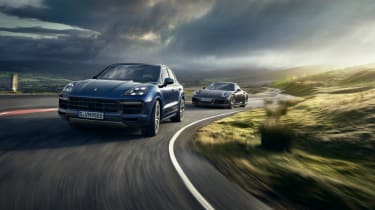 Until 2002 most of us had a pretty good idea what a sports car looked like. They didn't all look the same, but when you saw one you knew what it was. Then along came the Porsche Cayenne Turbo and added another dimension to the sports car mix. Here was a sports utility vehicle that placed its emphasis on the first word of the genre; it could seat five in luxurious surroundings and its driving dynamics were faithful to the badge on the nose. It drove like a Porsche. Which surprised many pundits. But shouldn't have.
In the intervening 15 years between then and now, the Cayenne Turbo and the other Cayenne derivatives have maintained that five-seater sports car ethos to impressive effect, and by the time the third generation car was launched earlier this year, total Cayenne sales stood in excess of 770,000 units.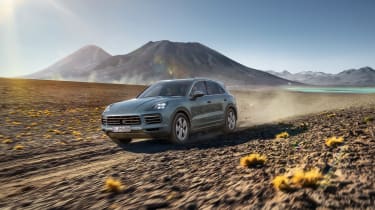 The new Cayenne continues the evolutionary progress of the model, honing its performance and its on- and off-road dynamics, and introducing a raft of new technologies that enhance the pleasure of driving it, and being driven in it. 
As is traditional with Porsche sports cars, at the heart of the new Cayenne range is its engines. For reasons of fuel efficiency and improved emissions, the engines are now smaller and yet their power and torque outputs are even greater. The entry-level powerplant is a smooth and sophisticated turbocharged 3-litre V6 producing 335bhp. Next, powering the Cayenne S, is a 434bhp twin-turbocharged 2.9-litre V6, and topping the line-up is a 542bhp 4-litre V8, again with twin turbos, found under the bonnet of the Cayenne Turbo.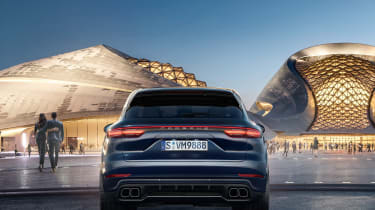 Behind the wheel there's no doubting the sporting characteristics of any of the three models, but the Turbo rams home the sports car message most emphatically – when fitted with the optional Sports Chrono package, it'll thunder from standstill to 62mph in just 3.9 seconds and, given enough autobahn, will rampage on to 177mph.
Further proof of the E3's sporting intent can be found amongst its numerous engine and chassis management systems. With the optional Sports Chrono package, for example, the various driving modes – Normal, Sport, Sport Plus and Individual – can be selected via a switch on the steering wheel. Just like on the 918 Spyder hypercar. Within Sport Plus mode you can select 'Performance Start'; this activates all the most aggressive settings for the chassis, eight-speed Tiptronic S transmission and engine, sinks the air suspension to its lowest level, and adjusts the 'active' roof spoiler – yes, the E3 Cayenne even has, as a world first on a premium SUV, an automatically adjustable roof-mounted aero device, Porsche Active Aerodynamics (PAA), for extra downforce and stability at high speed, and which also acts as an air brake – to accelerate you away from rest in optimal fashion.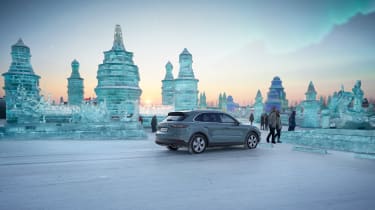 Another performance bonus within Sport Chrono is the Sport Response button, which for a period of up to 20 seconds triggers an overboost function that unleashes absolute peak engine performance for safer overtaking manoeuvres. Or even for something 'a little extra' on the track. Also with the track in mind, the revised Porsche Stability Management – PSM – has its own Sport mode, which backs off the electronic safety net to allow skilled drivers to experience the Cayenne's handling with the very minimum of 'assistance'.
The basic chassis has been enhanced, too. There's a completely new multi-link aluminium lightweight front suspension. Revised rear suspension design. Active rear axle steering – as also seen on cars such as the 911 GT3 – to make the Cayenne more nimble at low speed, more stable at high speed. The active anti-roll bar system, called Porsche Dynamic Chassis Control (PDCC) is improved. So too is the air suspension, which features a new three-chamber design that quickens responses and provides a greater range of range of spring and damper rates, as well as allowing higher ground clearance off-road.
> Porsche Cayenne: It's come a long way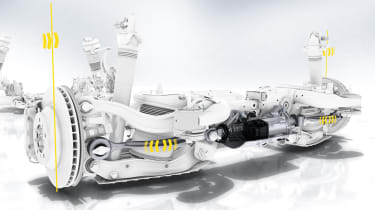 And the E3's four-wheel drive system, Porsche Traction Management, is now better able to distribute torque to each individual wheel, according to its precise needs. Helping achieve this is the new Porsche 4D Chassis Control, for the first time a single control unit that has command of all the vehicle's dynamic systems and can integrate their responses to any and all driving situations.
Sports car it may be, but the new Cayenne hasn't neglected the wellbeing of its occupants. Revised seats offer more comfort and adjustment, for the driver and their four passengers. There's the option of thermally and noise insulated glass. The Porsche Communication Management (PCM) system features a bigger screen for its touchscreen controls, superior software and graphics, even handwriting recognition. There are several high-end hi-fi options, some with outside noise cancelling technology.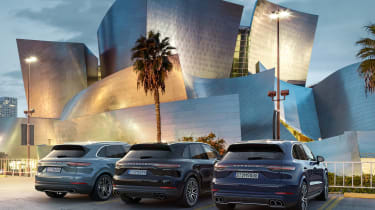 And there's enhanced connectivity. From mobile phones to the internet, to online radio stations and music streaming services, even shopping channels: the E3 Cayenne is permanently online. You can also use it to video monitor what's going on inside your home. And with a range of new apps, you can programme various functions of your Cayenne, from the comfort of the sofa in your front room.
The E3 Cayenne is packed with many, many more clever technologies: the adaptive LED headlights deserve their very own story. But what's most important about the new Cayenne is that it remains totally and utterly a genuine Porsche.     
For more information on the all-new Porsche Cayenne please, click here