Porsche Cayenne: It's come a long way (sponsored)
Launched in 2002, the Cayenne truly put the 'sports' into SUV. 15 years on, the all-new Cayenne has evolved into something extraordinary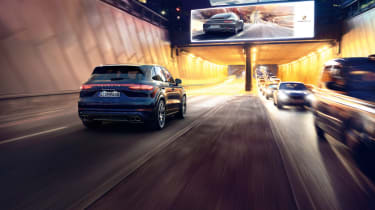 Porsche has never shied from making bold decisions and tackling uncharted territory. And so, with that pioneering spirit very much to the fore, in 2002 Porsche launched its first SUV, the Cayenne. While the market sector may not have been familiar to the Stuttgart-based sports car specialist, the company's approach to designing and engineering the Cayenne was the same as for any other Porsche product – an SUV it may have been, but it had to remain true to Porsche's heritage. 
The Cayenne was responsible for truly putting the 'sport' into 'sports utility vehicle'. As Porsche's first V8 model since the 928, the Cayenne S was endowed with a hearty 335bhp; the Turbo, meanwhile, rustled up 444bhp from its twin-turbo 4.5-litre V8. To put that figure into perspective, it's the same power output as Porsche's iconic 959 supercar from 1986. In 2006 a 514bhp Turbo S derivative arrived, and following an increase in engine capacity to 4.8 litres in 2008, the Turbo S became an extraordinary beast – now with 542bhp, it could streak from standstill to 60mph in 4.7 seconds, topped out on the other side of 170mph, and had Porsche's fabulous carbon-ceramic brake discs.
> In the wheel tracks of the Porsche 959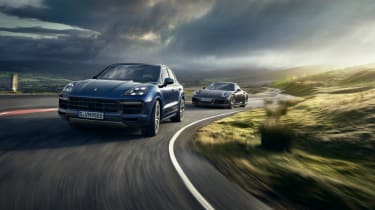 And the Cayenne wasn't just straight-line fast: from the outset it handled just like a Porsche should, nimble and capable and fun. It was supremely comfortable, too, especially when fitted with air suspension, and generously accommodated five people. And as well as being a 'proper' Porsche it was also a 'proper' off-roader, as three victories on the gruelling 4400-mile Transsyberia Rally attest.
When the Gen 2 (E2) Cayenne replaced the pioneering original in 2011, there was no dissent. It was lighter, quicker, more agile and more fuel efficient than its predecessor. More luxurious. Better equipped, with newer technology. It was improved and enhanced in every area. And with an eye to the future, in 2014 Porsche introduced an important new derivative, the Cayenne S E-Hybrid, the world's first plug-in hybrid in the premium SUV sector. No wonder that by the time the Gen 2 Cayenne was ready for replacement in 2017, total Cayenne sales had topped 770,000 units.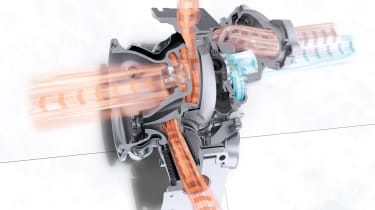 Now there's a third generation Cayenne. It's a mixture of revolution and evolution. Which, when you stop to think about it, is the Porsche way. It's clearly identifiable as a Cayenne, but more modern. Slicker. Its interior raises the game still further for luxury and comfort, and it features the very latest in connectivity and infotainment systems. 
The new Cayenne is lighter than its predecessor, but is crammed with more technology and equipment. Its launch engines are downsized yet more powerful – topping the range is the Turbo with a 4-litre 542bhp twin-turbo V8; next in line is the Cayenne S with a 2.9-litre V6, again with a pair of turbos, producing 434bhp; while the entry-level Cayenne is powered by a 335bhp 3-litre V6. All are coupled with an advanced eight-speed Tiptronic S automatic gearbox that's smoother, faster and more fuel efficient than before.
> Perfecting the five-seater sports car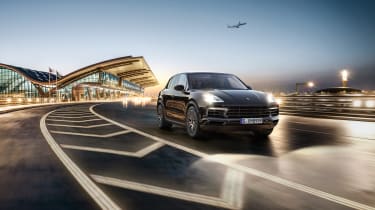 A further advance on the latest Cayenne is a completely new design of lightweight aluminium front suspension and a heavily revised rear setup that now incorporates Active Rear Axle Steering: also new is the air suspension found as standard on the Turbo and optional on the other two models. The suspension struts have three internal air chambers – this improves the speed of response, allows a greater range of spring and damping rates than before, and off-road gives greater ground clearance than previously. They also provide an anti-roll function: this is backed up by an electro-hydraulically actuated active roll stabilisation system (Porsche Dynamic Chassis Control, or PDCC) to keep the Cayenne as flat and as stable as possible whilst cornering hard.
A sophisticated four-wheel drive system – Porsche Traction Management (PTM) – constantly monitors individual wheels and distributes torque to ensure that each is to its optimum in terms of forward traction and lateral grip. PTM is joined in its endeavours by Porsche Stability Management (PSM), the company's by now familiar handling aid and active safety device. And there's now a separate PSM Sport mode that allows a skilled driver in a controlled environment such as a race track, to explore the Cayenne's handling at the extreme limit while still retaining a safety net in the background.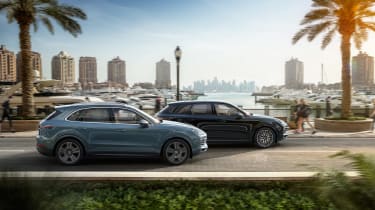 All of these systems – and a few more – are now under the jurisdiction of a single controller: previously they functioned independently. Called Porsche 4D Chassis Control, it assimilates data from all the different systems and then integrates their various responses to provide smoother, quicker, more stable and more thrilling driving dynamics.
The Cayenne has always represented the perfect mix of luxury and performance, with extraordinary off-road ability thrown in for good measure. The third generation model has taken all the elements that made the original Cayenne such a formidable machine and moved them to a much, much higher dimension. As five-seater sports cars go, it's every inch a genuine Porsche. 
For more information on the all-new Porsche Cayenne please, click here