In the wheeltracks of the 959 (sponsored)
The all-new Cayenne has a surprising amount in common with its illustrious forebear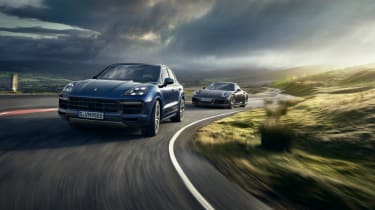 In 1986 Porsche launched a car that was to have a profound impact not only on general expectations of how a supercar should perform, but also on the mechanical and technical composition of all subsequent Porsche models. Conceived initially for motorsport, the 959 was a technological masterpiece that pushed the boundaries of automotive engineering.
The 959 featured electronically-controlled four-wheel drive with automatically variable torque distribution; automatic three-stage 'active' dampers with automatic ride height control; a pair of turbochargers with sequential phasing; and electronic fuel injection with Bosch DME Motronic engine management that monitored acceleration, braking, steering, traction and suspension loads 200 times per second.
> Perfecting the five-seater sports car - sponsored
Porsche's new-wave supercar was capable of very nearly 200mph and could fly from standstill to 60mph in 3.7 seconds – in 1986 a handful of specially prepared examples took part in the car-wrecking (mainly off-road) Paris-Dakar rally raid, finishing first, second and fifth. Later that year, a track-prepped 959 won its class in the Le Mans 24-hour race and finished seventh overall. The 959 had proven itself capable and adaptable. Some pundits proclaimed it to be the future. Some pundits were right.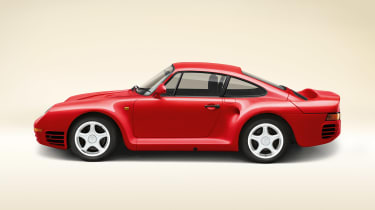 Proof of that is the all-new, third generation Porsche Cayenne range, and especially the Turbo. Its advanced specification has its roots deeply embedded in the bedrock hewn by the 959, and then nurtured by three decades' worth of technological advancement. Because while the Cayenne falls under the general umbrella of 'SUV', it's far more helpful to think of it as a five-seat sports car. A five-seat Porsche sports car.
You may initially consider a comparison between the 959 and Cayenne Turbo a bit far-fetched, and yet there are credible links that bind them. Take the engines, for example. The 959's 2849cc flat-six was a deliberately downsized powerplant with twin turbochargers, designed to take advantage of the prevailing motorsport regulations and developing 444bhp. The all-new Cayenne Turbo's 4-litre V8 is of smaller capacity than its predecessor, and uses its twin turbochargers to significantly increase its power and torque outputs – to 542bhp and 568lb ft – whilst at the same time improving fuel economy and emissions.
> The Porsche Cayenne, it's come a long way - sponsored
While the 959 featured the then unusual six-speed manual gearbox, the Cayenne Turbo benefits from the very latest eight-speed Tiptronic S automatic transmission, a paragon of smooth, super-quick gearchanges that revels in both hard charging along back roads (in either its manual or fully automatic modes) and relaxed cruising on the motorway.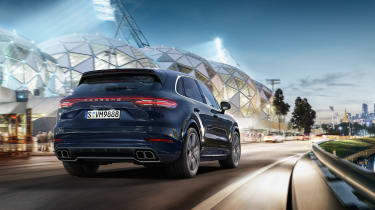 Innovative in its day, the 959's chassis used an electronically controlled four-wheel drive system teamed with three-stage dampers and automatic ride height control. In the most basic terms the new Cayenne Turbo could be described in much the same way, but its hardware and, more importantly, its software, are far more complex. Drive is distributed to each wheel individually according to very sophisticated parameters via the 'active' Porsche Traction Management (PTM) system. It's complemented by a number of other advanced technologies, including Porsche Stability Management (PSM), a system that keeps the car stable and prevents loss of traction when driven to extremes and in poor road surface conditions; active rear axle steering that makes the Cayenne manoeuvrable at low speeds and stable at high speeds; and Porsche Dynamic Chassis Control (PDCC), that actively counters the body's tendency to roll through bends, enabling the new Cayenne to corner with a much flatter stance.
Another factor in the Cayenne Turbo's remarkable high-speed ability is its next generation air suspension. Whereas the 959's dampers had three distinct settings, each of the Cayenne's air suspension units is a three-chamber design, the advantages of which are a greater range of 'spring' rates during on-road use than previous iterations, the ability to act as an anti-roll device through corners, and higher ground clearance during off-road operation. The 959 was oft praised for being able to corner like a race car yet ride like a limousine, courtesy of its extraordinary suspension: the new Cayenne Turbo takes that feat to another dimension.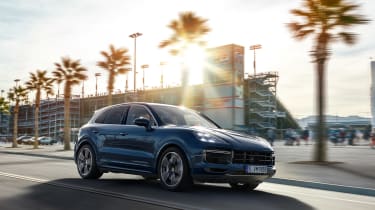 In the mid-1980s the 959's Bosch DME Motronic represented state of the art automotive systems management, linking data from several of the car's dynamic functions to help control the engine's outputs. With the new Cayenne, Porsche has introduced what it calls 4D Chassis Control that moves whole vehicle management to a higher plain. With 4D there's a single controller for all the Cayenne's many and varied dynamic and engine systems, which enables them to interact more intelligently and enhance the car's performance and driving pleasure.
Of course, there'll never be another Porsche quite like the iconic 959. But the lessons it taught the company have been wonderfully applied to the new Cayenne. In Turbo guise its straight-line performance would give a 959 owner plenty to be concerned about, while its back roads prowess belies both its size and its ability to accommodate five people in supreme comfort.
For more information on the all-new Porsche Cayenne please click here