A car magazine without a car on the cover – evo Archive
How the traces of dancing Japanese drift machines made it onto an evo subscribers' cover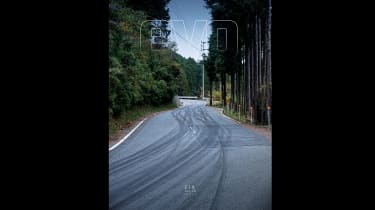 The only evo magazine covers not to feature a car (or any part of a car) were the subscribers' covers of issues 100 and 219. It's the second one that has the more interesting story. Instead of a supercar or hot hatch there was just an empty squiggle of road. There had been covers with beautiful scenic shots where the car was almost incidental, but it felt like quite a big step to go that one stage further and simply have an empty stage. 
It's quite a peaceful image and yet it's also a photo that conjures a cacophony of revs and squeals, because tattooed on the tarmac is a veritable Medusa's hairdo of writhing tyre tracks. It tells a story of the bold, the timid, the overcommitted and the neat. Too much throttle and not enough. Too much correction and not enough. It is an artful aftermath. A detached display of illicit drifting.
It's certainly one of my favourite covers and, anecdotally, I'd say it was a lot of other people's too. But we nearly didn't get the shot. 
The feature it belonged to was a sort of adjunct to a trip to the Tokyo motor show. By doing a drive story, as well as a piece on former Porsche factory racing driver Tetsu Ikuzawa and his incredible car collection (which appeared later, in issue 227), we were helping to justify the long-haul flights and the extended time out of the office. Aston Parrott and I had already spent most of a day in a Cayman GTS near the location of the cover shot, on the famous Mazda Turnpike and Hakone and Ashinoko Skylines. But only after wasting a lot of time following a satnav that was meant to be guiding us but was clearly lost.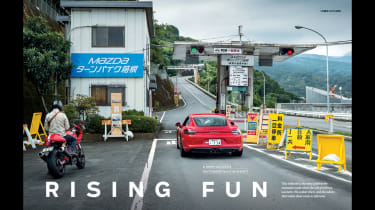 'Bill Murray and Scarlett Johansson may as well have been our tour guides,' recalls Aston. 'And do you remember the meal we had in Tokyo that evening? Sushi? Wagyu? Oh, no. My introduction to Japanese cuisine was pancakes with bananas and whipped cream. They weren't even nice pancakes.' 
I remind Aston that they were at least made into a sort of culinary crown. And I'm sure the side serving of maple syrup took the sweetness level to something between bathing in caramel and snorting sherbet.
'It's all coming rushing back…' he says. Much like it did on the night.
But we digress. Just as we did on our second day in the GTS when looking for the entrance to the rubbered road. It was hidden to the extent that we drove past it several times, but I knew it was there somewhere. Aware that sign reading might be tricky, I had done some research before we left the UK and had identified the 337 as our way to the Fuji Speedway, which I'd initially thought we might drive to. We had no idea that, when we eventually found it, the road would have been the scene of some Initial D action.
We didn't have much time and I remember Aston looking slightly askance at me when I suggested we shoot the road without the Cayman anywhere in frame. Although that might have been the pancakes again. 
Anyway, as you can see, he did an amazing job, but because we were a little unsure if the rest of the evo office would think we'd gone gaga we also tried some long-exposure shots with the lights of the car tracing through the image. They were cool, but somehow the empty road was more evocative. It's not pretty, but there's just something aesthetically arresting about the contrast between the squiggles and the straight trees.
My only regret? That it didn't make it onto the newsstand cover too – now that really would have been brave.