A-Z Supercars: Marussia B1/B2
Based on early impressions, Russia's first supercar manufacturer is one to watch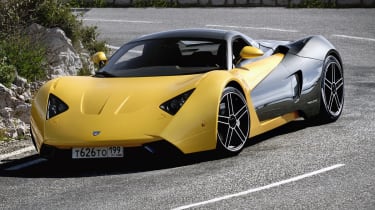 Marussia has become familiar to followers of Formula 1 in recent years, having taken over what was the Virgin Racing team, but it is also has ambitious plans to be a serious contender in the supercar market. The Russian company's first super-sports car, the B1, was unveiled in 2008, with sales starting in 2010. A second model, the B2, with the same mechanical package but wilder styling, followed, and the company has also launched a giant SUV called the F2.
The supercar – which Marussia sees as an alternative to the Ferrari 458 and Lamborghini Gallardo – is offered with three engine options, all designed by Cosworth (also suppliers for the Marussia F1 car). The base unit is a 3.5-litre naturally aspirated V6 producing 300bhp, but there is also a 2.8-litre turbo V6 offered in two states of tune: 360bhp and 420bhp. The engine is mounted transversely amidships, driving the rear wheels through a six-speed paddleshift automatic gearbox.
Not huge power outputs, but with a central aluminium tub and steel spaceframes clad in carbonfibre body panels, the B1 weighs just 1100kg, which means that in its fiercest spec it has 388bhp/ton, which just pips the 458 Italia. Since evo has yet to test the car, we'll have to take the performance figures on trust, but 0-60mph in 3.7sec sounds entirely feasible.
Marussia claims to have sold its initial planned production run of 500 cars, which are being built at the Valmet factory in Finland. It's a huge ask to compete with the might of Ferrari and Audi-owned Lamborghini, but Marussia, led by Russian TV personality Nikolay Fomenko, isn't short of ambition. In May 2012 it opened a showroom in Monaco, its first outside Russia, and it plans further expansion in Europe, followed by the Middle East and Asia.
Specifications
Years made 2010- Engine V6, 2800cc, turbocharged  Max power 420bhp @ n/a rpmTorque 442lb ft @ 4000rpm  0-60mph 3.7secMax speed 155mph  Price c£110,000 (est)