Ferrari F12 v Lamborghini Aventador and Aston Martin V12 Vanquish
Can Ferrari's F12 Berlinetta match the GT credentials of the Aston Martin Vanquish and outperform the wild Lamborghini Aventador? We head to Italy to find out…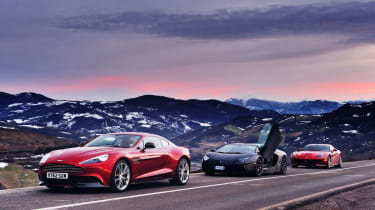 As we hurtle through the beautiful foothills of the 
Apennines, I feel like I'm playing a high-stakes, high-speed version of that fairground game where you have to guide the hoop along the electric wire without touching it.
We're late and the road that's twisting and turning in front of me is sopping wet. These are not ideal conditions to cosy up to a hyper-alert, 730bhp Ferrari F12 for the first time. Even half the horsepower available to my right foot feels like plenty to light up the lightly treaded rear Michelins in a dead straight line, let alone on the exit of a corner. It's not just the power that's intimidating either; I'm also trying to delicately guide the Ferrari's V12-filled nose into bends with steering so sharp it makes broken glass look a bit woolly. In short, I currently need as much tightly focused brainpower as I can muster, and possibly a bit more.
When I slow for villages, the layer of wide-eyed concentration subsides and is almost instantly replaced by an excited anticipation about the two days ahead. In order to test the F12 to its very limits, there is 1255bhp and a whole lot of carbonfibre waiting patiently up in the mountains. The Ferrari claims to be both GT and supercar, mixing front-engined packaging and civility with exotic, F1-inspired dynamic ability. So we thought we'd test each facet to the maximum by creating one of the most mouth-watering group tests imaginable – Ferrari versus the best V12 GT on the market, and Ferrari versus the best V12 supercar available.
Half an hour later, I'm pulling up at the side of the road. Ahead is another front-engined, rear-wheel-drive V12 clad in similar dark red paintwork, only this time with a pair of Aston wings on its nose. Between the Aston and the Ferrari, there's a slice of matt-black Lamborghini with its scissor door open and a set of huge orange calipers gleaming behind enormous wheels. Then, obligingly, the sun breaks through the clouds.
Partnership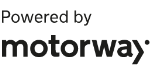 Need to sell your car?
Find your best offer from over 5,000+ dealers. It's that easy.
This is going to be a hell of a test. But first, allow us to introduce the rivals...
NEXT PAGE: The GT Challenger, Aston Martin V12 Vanquish