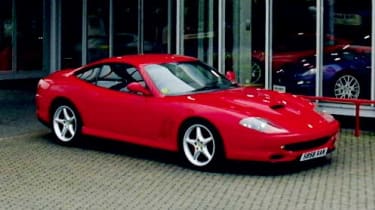 While it's very comforting having a gold-plated Ferrari warranty nestling in the leather documents folder, the flip-side is the requirement to get any regular servicing done the very moment it's due. This month that meant it was time for the infamous cambelts to be binned, just as they were about to celebrate their third birthday.
While the 550 was at Dick Lovett's in Swindon, I asked for a couple of extra niggles to be investigated: a trickle of water into the driver's footwell under hard cornering had become such a torrent that it was now a good idea to wear wellies when driving, while the passenger door lock didn't always lock when asked to by the plipper.
Lovett's had kindly arranged a Maserati 4200GT as a loan car for the next couple of days, something Mrs M was very pleased about because, just maybe, it would lead me to realise what a bad idea it was buying a bright red Ferrari. A Maserati is apparently so much cooler to tool around in. We would see...
We didn't get off to a great start, the Maserati seats immediately feeling very mean after the Ferrari's extravagant chairs (there's no real side support to speak of) while the relationship between wheel, seat and pedals had a whiff of old-fashioned Italian ergonomics about it. Then there was the Cambiocorsa gearbox. Lord knows why people choose it, especially when it's a £2345 option; this was a brand new car but the clonks coming from around the rear felt distinctly secondhand.
No complaints about the engine, though: powerful all the way through the rev-range, I'm sure it could easily keep a charging 550 in close range up to 100-120mph before the Ferrari's extra muscle would start to give it the upper hand.
The big difference was obvious when I took the Maser on my favourite back-road run to the office. Even after a few miles, it never felt particularly settled; the Skyhook suspension feels too soft to begin with, but then it would make a complete hash of absorbing a bump, sending a crash through the cabin. Very odd. It also suffered from too much body-roll, while steering feel was at a premium. Somehow it felt narrow-tracked, and OK in a straight line but increasingly tricky to control through corners.
On the same roads you can fling the 550 around as if it's a rebodied Caterham, the quick steering disguising its bulk while the wider track keeps body roll in check. Despite appearances, the big 550 feels utterly unintimidating to drive hard because it behaves exactly as you expect it to. All the controls are completely transparent in their actions, which makes it the exact opposite of the Maserati.
After two days I was grateful to get the Ferrari back and there was a nice surprise when I got the bill. Even at a standard labour charge of £85/hr, the bill came to just £615.52, inc parts and VAT. Cambelts were £45.50 each and took 4.5hrs to replace, the unwanted foot wash when cornering turned out to be a blocked drain on the air-con condenser, and the locking problem was cured by an adjustment to the door handle. But before I get too smug, the next service is due in just 4000 miles, and that won't be cheap. Wonder what the loan car will be...
Running Costs
| | |
| --- | --- |
| Date acquired | December 2004 |
| Total mileage | 27,120 |
| Costs this month | £615.52 (see text) |
| Mileage this month | 1840 |
| MPG this month | 15.2mpg |