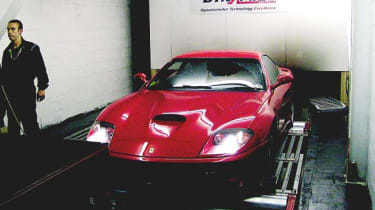 As I watch the 550 being strapped down onto WRC's terrific new rolling road facility at Silverstone it occurs to me that this could all end in tears. Ferrari's claim of 485bhp at 7000rpm suddenly sounds an awful lot. Perhaps a few will have escaped since the 550 first left the showroom almost seven years ago. Perhaps they were never all there in the first place. Then again, our car has always felt pretty fit, so it would be a surprise if it didn't post a reasonably big number.
The 550 is being force-fed copious amounts of air from a fan that's so enormous it dims the overhead lights every time it's switched on. Inside the car, the operator is currently playing with the Ferrari's throttle like he's teasing the rollers. Then, without warning, the throttle is rammed into the carpet, the LCD screen on the wall jumps into life and, like a high-tech version of Etch A Sketch, a line starts to appear at the bottom left of the screen. With a trajectory like a major-league firework reaching for the stars, the digital readout goes into overdrive. The big Ferrari starts to howl in anger as the rear tyres rip into the rollers: 250, 300, 350, then 400bhp flash by before the power trace begins to level off at 450bhp. Ooh-err. For a while it stays ominously level until 6500rpm arrives and the power curve gets a second wind, powering upwards again through 460, 470 and 480, before finally topping out at an amazing 482bhp (394.5bhp at the wheels).
Wow. It's a magical display and I'm chuffed to bits. First run, no cheats involved, air-con on, lights on, pump fuel and the Ferrari delivers, big time. The insignificant 3bhp shortfall is easily accounted for by the drain caused by the air-con and lights, never mind 30,000 miles and seven years of wear and tear.
We do a second run, just to check the figures, but it differs from the first by a mere 0.2bhp, while torque is slightly up on standard on both runs at 420lb ft.
A result, then, and from now on we'll pop the 550 on the rollers every 10,000 miles, just to see how it's faring. So there's another good excuse to keep this Ferrari a little while longer.
Running Costs
| | |
| --- | --- |
| Date acquired | December 2004 |
| Total mileage | 32,660 |
| Costs this month | £0 |
| Mileage this month | 2009 |
| MPG this month | 15.2mpg |