It sounded like a simple delivery job. Pick up Nick Mason's Enzo from Bob Houghton's Ferrari emporium in the Cotswolds and deliver it to the Col de Vence – 950 miles away, in the south of France – in time for a photoshoot starting on Tuesday morning. The Enzo was at Bob Houghton's because a stone had flicked up and punctured the oil cooler. With a new one due to arrive on Friday, time was tight, but if I set off on Sunday afternoon I'd have a comfortable drive down to the French Riviera on Monday.
Having filled up with fuel at the last filling station in the UK, my first stop in France is some 270 miles later, just before Reims, at 12.30am. Filling the Enzo tank costs £120 a time but at least you get several minutes to stare into that wonderful engine bay. The 650bhp 6-litre V12 is a serious piece of kit, and having it on show like this is all part of the Ferrari magic.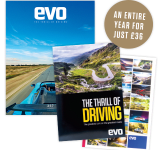 Subscribe to evo magazine
evo is 21 and to celebrate, we're returning to 1998 prices! Subscribe now to SAVE 39% on the shop price and get evo for its original cover price of £3.00 an issue, plus get a FREE gift worth £25!
As the miles slip by, I really start to struggle with keeping the speed down to the legal limit (an indicated 95mph equals around 3300rpm in sixth). Eventually, with the autoroute becoming increasingly deserted, I can't resist it any longer. Flicking down the gearbox, I give it full chat in third. The engine instantly digs deep, emitting a delicious howl. I haven't got Race mode selected, so, as the red line approaches, the gearbox automatically pops into fourth at 108mph. Fifth arrives at precisely 143mph and lasts until sixth is needed at 181. I'm buzzing now. This full attack probably only lasted some 30 seconds or so, but how I wish I could do the whole journey at these sorts of speeds. Big speeds are incredibly easy in the Enzo. It's like the car is covered in a special layer of Teflon, allowing it to slip effortlessly through the cool night air. In fact, this side of a Veyron, I can't think of a car that builds speed quite as easily as the Enzo. You do need to be alert, though, as it feels nervous at high speeds, thanks mainly to the ultra-sharp steering. You also need to take care in crosswinds, which seem to unsettle the Enzo more than other supercars. By 2.10am I've got as far as Dijon and decide it's time to have a kip, so I park up and recline the seat as much as I can. It's not easy, but with a rolled-up jacket as a pillow, I manage about an hour of decent shut-eye. A quick coffee at the service station later and I'm off again, still with 430 miles to go.  At 5am I stop for fuel just south of Lyon. The Enzo won't win any economy competitions, averaging 16.5mpg at 95mph. I park up for another nap, but a stream of lads pour out of a coach in the car park and, with camera phones at the ready, make a beeline for the Enzo. Rather than become tonight's Facebook sensation, I quickly move on and pull into a lorry park, out of sight of the amateur paparazzi. When I awake some 50 minutes later a few of the trucks are making their way out to the motorway. Seems as if France is starting to wake up, too.  As I start heading east just above Marseille, the sky turns pinkie-orange, signifying dawn is almost here. It's a welcome sight. The Mediterranean sun is blinding as it finally begins its slow ascent, but it feels beautifully warm through the Enzo's windscreen. Watching the sun come up is always magical, but today it's telling me I'm on the home straight. Another fill-up and a breakfast croissant later and I'm approaching Grasse in the morning rush hour. I've almost done it. I look out at all the commuters around me and wonder who's had the more memorable trip to work this morning, them or me. Then I spot the sign indicating the start of the Col de Vence. This is what I've driven all this way for.
Click here for our Enzo v Focus RS v Subaru v Audi RS3 video