So you think a 488 Pista is hardcore? Then you really ought to meet the 488 GT3. Closely related to Ferrari's World Endurance Championship contender, the 488 GTE, the GT3 is a purebred racer. One that shares fundamental DNA with its road-going sibling, but was designed and developed from the tyres up to compete in what has become the most successful, competitive and hotly contested era GT racing has ever seen.
Introduced at the start of the 2016 season, the 488 GT3 was an instant success, winning its first six races straight, including the 2016 12 Hours of Sebring. In its first two seasons it scored victories on four continents, winning the 2017 IMSA title in America, the Blancpain GT Series in Europe, the Asian Le Mans Series, Super Taikyu championship in Japan and the Bathurst 12 Hours in Australia. An exceptional record against fierce opposition.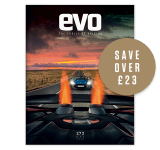 Subscribe to evo magazine
Subscribe today to have every issue of evo delivered straight to you. You'll SAVE 39% on the shop price, and get evo for its original cover price for a whole year!
Opportunities to test factory-supported Ferrari race cars are rare indeed, so it's with great excitement we head for Mugello – the Ferrari-owned circuit in the heart of Tuscany – to sample the very 488 GT3 that claimed pole at last year's Daytona 24 Hours. We're actually gatecrashing the inaugural gathering of Club Competizioni GT (see panel), so whilst we are sharing the track with other cars, it's not in the rough and tumble of a live race weekend or test session.
I'm grateful for this, because I'm entirely new to both the car and the track, the latter being one of the most challenging circuits in Europe and something of a hidden gem. If you're a follower of MotoGP you'll know it as the open-air cathedral at which Valentino Rossi's army of fans congregate. Set in a valley between rolling Tuscan hills, it's an extraordinary place, the track sprawling across the landscape to form a formidable 3.26-mile lap.
The day is relaxed, with no pressure other than that I put on myself, so after a quick briefing about the controls it's time to pull on my box-fresh Club Competizioni GT overalls (red, naturally) and get strapped in. It sounds cheesy, but there's definitely something extra special about driving a Ferrari race car. I'm not sure why, but I'm rather glad it's the case as it shows I'm clearly not as cynical as I feel!
It's certainly a fabulous-looking car – one clearly pumped up compared to the 488 road car, but still possessing a purity that some of the more outlandish GT3 contenders lack. The comprehensive aero package is matched by suspension and brakes that are optimised to within a micron of GT3's regulations, which allow considerable deviation from the road car, but are strictly policed. For instance, the transmission is a bespoke six-speed racing unit, with pneumatic shifts and mounted transversely rather than longitudinally, which helps with aero and weight distribution so the car is better balanced. It's fair to say this is a 488, but not as we know it.
Once you're in, the driving environment is simultaneously inspiring and intimidating. You're very aware of the extent to which these latest GT3 cars are built to be safe. Nets stop your arms flailing, HANS wings on the seat supplement your own HANS device, and there's even a removable panel in the roof, through which you can be extracted while still strapped to the seat in the event of a really Big One. It's all pretty sobering to be honest (I don't get in a race car with thoughts of crashing in my mind), but also reassuring. All the switchgear is chunky, well spaced and clearly labelled, so whilst you don't actually need to do much fiddling once you're driving, it's all easy to see and operate while wearing a helmet and gloves.
Like pretty much every modern racing car, driving out of the pitlane and navigating your first few laps is laughably easy. The clutch – once a source of leg-trembling trepidation – isn't too sharp or heavy, so you can pull away without having to light the thing up or stalling it ten times in a row. Once moving you don't go near the clutch again until you return to the pits, your left leg instead becoming a piston with which to apply as much pressure to the brake pedal as possible.
It's a wholly unnatural, yet wholly essential component of driving a GT3 car, for getting down to a decent lap time is mostly about nailing the braking zones. As I tend to race historics these days the notion of hammering the pedal as hard and late as you dare doesn't sit right, but with big slicks, significant downforce and massive brakes modulated by a sophisticated and minutely adjustable ABS system, you quickly have to do just that.
The process of reprogramming yourself is a challenge that takes a good few laps, during which time you feel really rather lost as your first braking efforts are laughably timid. This has the effect of unsettling the car, as having lost too much speed you find yourself back on the accelerator just at the point the car's nose should be under maximum load.
Gradually you run deeper into the braking zones and hit the pedal with more force, and slowly the car begins to work beneath you, finding more grip and almost guiding you into the apex. It's as this process begins to feel more natural that your confidence begins to rise and things make much more sense. For the first time you actually feel like you're driving the car, at which point your mood instantly switches from frustration to elation.
To really attack a lap in the GT3 is to taste true commitment. Your eyes strain to spot the braking points, which always seem suicidally short, even into the tight right at the end of Mugello's monster main straight. You're always trying to tread a fine line between probing for the limit and overstepping it, and while that limit is defined by intervention from the ABS or TC systems rather than a massive lock-up or gyration into the gravel, the punishment is knowing you've squandered speed and lap time.
In terms of straight-line performance the 488 GT3 isn't mind-blowing. At least not if you've driven a modern supercar in road trim. That seems crazy, but the success of GT3 is in its ability to achieve performance parity between cars as divergent as the 488 and a Bentley Conti GT3. In the case of the 488, achieving this 'Balance of Performance', or BoP, means power is pegged back to somewhere between 550 and 600bhp. Combined with the drag from the downforce-generating wings, you feel the 488 hit an invisible wall once you get into sixth gear, when the slipperier and more powerful road car would continue to accelerate. It's a necessary evil, and one I've never liked as a purist. It's even less palatable when you're behind the  wheel, but it fosters incredibly close racing.
Where the 488 really shines is through the corners, especially those that are high-speed, but not quite flat-out. There are numerous memorable sections of the lap at Mugello, but the standout parts for me are the run through turns six, seven, eight and nine, where the track tumbles steeply downhill through the right at Casanova, then left for Savelli, before looping back up the other side of the valley with a super-quick and apparently endless pair of left-handers called Arrabbiata 1 and 2, the latter tightening just after disappearing over a blind crest.
You really have to swallow hard through here if you're to get anywhere near the 488's capabilities, but even if you carry a bit too much speed through the downhill element, or find yourself running wide over the blind crest, there's enough stability in the car to be able to ease out of the throttle and apply a little more steering lock. I didn't expect such a level of forgiveness, and while there are some corners where I'd prefer a less nose-led balance, the 488 certainly feels as though it looks after you.
Given the nature of GT3 racing, where cars are often funded by wealthy amateurs who share the driving with professionals, Ferrari's stated priority to make the 488 stable and forgiving to drive is a canny one. This puts more pressure on the professionals to wring the absolute maximum from the car, but that's their job. So, while they often spend entire stints trading tenths and hundredths of seconds against pros in rival cars, if their Bronze-rated amateur co-driver can then get in and lap on or consistently close to their own personal limit instead of fighting with an edgy car that can only be tamed by the very best, then they stand a much better chance of success. Having had a taste of what it's like to drive, I only wish I was wealthy enough to join them.
This feature first appeared in evo issue 263. To read the latest issue head to Mags Direct, or subscribe to make sure you don't miss the next.