Ford Mustang Shelby GT350 R to produce 323bhp/ton
New 526bhp flat-plane crank V8 is Ford's most powerful naturally aspirated engine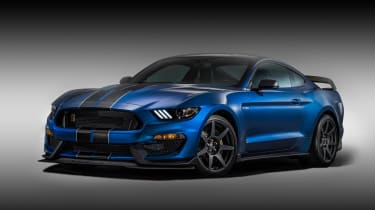 Ford has confirmed that just 37 Mustang Shelby GT350 Rs will be produced in 2015. That number matches up exactly with the production run of the even more rare 1965 GT350 Competition Mustang put together by Carroll Shelby.
Set to signify Shelby's memory, the extremely limited run of the new car almost instantly cements the GT350 R as a collector's item.
Ford also confirmed that the less hardcore version of the new Mustang, the GT350, will see 100 models built for 2015, making it almost just as rare.
It's worth nothing that these production numbers are just for 2015, so the GT350 R could easily see higher build quantities later down the line.
More details on the GT350 R can be found below.
Engine and Performance
Power comes from a flat-plane crank, 5.2-litre V8 - contrasting with the Mustang's more traditional crossplane crank. The new engine will produce 526bhp and 429lb ft of torque, and rev all the way to 8250rpm, making it Ford's highest revving production V8 ever. The engine is also Ford's most powerful naturally aspirated engine ever produced for the road (with 101bhp per litre), and will be mated to a six-speed manual gearbox.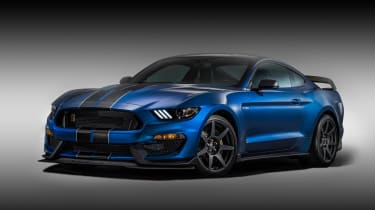 'The Shelby GT350R Mustang is a no-compromise car in the pursuit of maximum track capability,' said Raj Nair, Ford group vice president, Global Product Development. 'It is a thoroughbred street car making use of technology and ingenuity to deliver performance few enthusiasts have ever experienced.'
Chassis and Tyres
The car records multiple firsts for Ford, including the flat-plane crank V8, a layout more frequently found in high-revving European sports cars than brawny American muscle cars. Revised spring rates, anti-roll bars and carbonfibre wheels as standard suggest single-minded performance focus. A Torsen limited slip differential is standard and Michelin has developed a compound for its Michelin Pilot Sport Cup 2s tyres that will be unique to the car.
The GT350 R's chassis also boasts magnetic ride suspension and is 58Kg lower mass than the friendlier GT350, tipping the scales at 1655kg. Though it's not exactly a featherweight, it does at least ensure a power-to-weight ratio of 323bhp/ton, placing it alongside the likes of proper supercars like the 991 Porsche 911 Turbo (327bhp/ton).
Ford has stripped the GT350 R back as much as possible, removing the stereo, rear seats and boot floor. Exhaust resonators have also been removed - we suspect there'll be little need for artificially-generated sound in the R...
Aerodynamic revisions consist of a bonnet vent, a flat floor and a rear diffuser. A new front splitter completes the aero package.
'This is the pinnacle of performance Mustangs today,' said Dave Pericak, director, Ford Performance. 'The Shelby GT350R Mustang lays the groundwork for a story that will play out for years to come on the track and the street.'