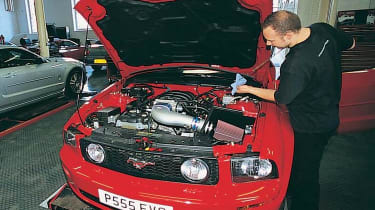 We had a bit of a surprise when 'Bubba' went back to Litchfield Imports and Powerstation in Tewksbury for its 5000-mile service.
Nothing to do with the bill, a modest £147 for an oil and filter change and a brake system bleed after our fluid-boiling session at Bedford Autodrome. However, we were soon to be left mildly stunned by news from the Powerstation workshop.
Brakes apart, P555 was feeling in fine fettle as it left for Litchfield's workshop. The 4.6-litre V8 was feeling especially frisky, the lusty lump having been pulling with increasing vigour and smoothness with every mile, especially since the free-breathing cone air-filter and CTS cast alloy air intake were fitted (£465 inc VAT and fitting) immediately prior to our Nürburgring adventure last month.
I confess that when my mobile rang my first thought was that some delayed mechanical shock after our on-track antics had sent the Mustang lame. O ye of little faith. Curious to know what effect the original SVA-pleasing remap had had on the V8, not to mention the new intake system and 5000 briskly covered miles, the Powerstation lads had stuck 'Bubba' on their new dyno room's rollers, wound him up to a peak of 6555rpm and recorded a spectacular set of figures. Iain Litchfield had merely phoned to relay the good news, namely 370.7bhp at 6545rpm and a meaty 338.6lb ft at 4705rpm.
That's a gain of 70bhp and 19lb ft over the factory figures, not to mention a graphic explanation for our Stang's rude health. All very nice, but it now puts even more pressure on me to source brakes, suspension and tyres to harness all that power. Watch this space.
Running Costs
| | |
| --- | --- |
| Date acquired | April 2005 |
| Total mileage | 6110 |
| Costs this month | £612.10 |
| Mileage this month | 1089 |
| MPG this month | 20.9mpg |