Ford Mustang GT
With Meaden indisposed on the Nordschleife, Harry Metcalfe takes the American beefcake out for another spin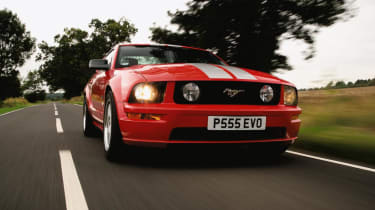 With Meaden totally bewitched by his recent purchase (the Porsche 964 RS Fast Fleet update), I couldn't help noticing that evo's Mustang had been left languishing in the car park. And with the Zonda out of commission this month… well, you can see what's coming.
The Stang might have seemed a bit of an oddball addition to our fleet when it arrived 18 months ago – big, brash and under its skin  as ancient as Stonehenge. But as the months have passed we've also learnt that it's a very, very loveable device.
Stretching that beefy 4.6-litre V8 to its red line is one of those (increasingly rare) great automotive moments. As the decibels rise, it's as if you're listening to a Hollywood car chase in Surround Sound. Even better, you're in control of the volume.
I'll desperately miss the Mustang when we eventually get round to selling it. But there's no rush.
Running Costs
| | |
| --- | --- |
| Total mileage | 23,760 |
| Costs this month | £0 |
| Mileage this month | 1345 |
| MPG this month | 18.8mpg |