This is Ford's third-generation Focus, revealed at the Detroit Auto Show. It's lower (by an inch), sleeker and wedgier than the outgoing car, in an effort to signal its driving credentials and distance it further from the new C-Max MPV variants. It is to be a 'world car', coming out of factories in the US, China and Russia as well as Saarlouis and Valencia in Europe. Revealing it in Detroit is a move intended to amplify the world-car dimension. And the Candy Red paint is very likely to appear in the production colour palette. Ford has tried this world-car thing before, of course, but with patchy success. This time the 'one Ford' philosophy is said to have a better chance of success, because worldwide tastes are converging thanks to the instant communication made possible by the internet. 'There's a kind of global cool emerging,' says design chief Martin Smith. 'Anywhere we clinicked the new Focus – New York, Shanghai, Europe – all have loved it.'
Typical Focus visual signatures remain, but in new forms. The trapezoidal intake low at the front is now split into three, something the Americans wanted, while the rear lights, though still mounted high, no longer occupy the rear pillars. There is no three-door version at launch, and there may not be one at all as no prototype has yet been made. A four-door is being shown alongside the five-door at Detroit, however; unlike with the previous two generations, the saloon looks a properly coherent piece of design. An estate car follows shortly.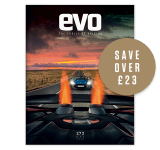 Subscribe to evo magazine
Subscribe today to have every issue of evo delivered straight to you. You'll SAVE 39% on the shop price, and get evo for its original cover price for a whole year!
Click here to tell us your views on the new Focus
With no three-door in the immediate plan, what chance is there of an RS version? 'It's open at the moment,' says Ford of Europe CEO John Fleming. Five doors and an RS badge needn't be mutually exclusive, given that the new car's shape already has strong coupe overtones. What is clear, though, is that an RS would no longer have the thirsty five-cylinder engine whose death warrant has just been signed. Instead it would revert to a 2-litre, turbocharged four.
Turbo fours play a big part throughout the new range, as they will in all future Fords. The Focus, the Mondeo and the S-Max and Galaxy MPVs are all set to receive new EcoBoost units which use radically-variable valve timing to scavenge the cylinders at low revs, achieving efficient filling of the cylinders with air on the inlet stroke and spinning the turbo quickly up to speed. Very similar to the system recently introduced by Alfa Romeo, it's set to become widespread in the near future.
The Focus gets the smaller EcoBoost unit, a 1.6 able to produce between 150 and 180bhp depending on its application plus 177lb ft of torque at just 1500rpm. The bigger engine is a 2-litre, initially with 203bhp plus 199lb ft at, again, 1500rpm; this is the engine that could appear, suitably tuned, in a future ST or RS. There's a new six-speed gearbox to suit. So, how will the new Focus drive? Chief engineer Jens Ludmann says it will be both more agile and more comfortable than the Mk2, whose wheelbase and overall weight it shares despite a stiffer structure and greater cabin space. The tracks are wider but the suspension architecture is similar in principle if different in detail. There's a torque-vectoring system to improve traction and minimise understeer by braking the inside front wheel as needed, and the power steering is now electric for better fuel efficiency. 'You might see that as a compromise,' says Ludmann, 'but we've found out how to make it precise. There are 250 parameters to program and we've analysed them all.' Neat touches include an automatic shutter for the front grille to improve aerodynamics, and door protectors which pop out to protect the edges as the doors are opened. Meanwhile, rumours of an ST version of the Fiesta have firmed up with the news of the 180bhp EcoBoost 1.6. Testing is underway, with much work devoted to getting excess heat out of the engine bay because of the tight turbo installation. Will it happen? 'Well, such an engine would certainly go well in a car with stripes,' says Ford of Britain marketing chief Paul Thomas, who has driven a possible prototype. Sounds like excellent news to us.
Click here for news, pics and blogs from the Detroit motor show
Read our shootout between Ford Focus RS and ST Mountune
Follow evo on Twitter or Facebook for latest car news + views