Ford Focus
They're all getting them: folding hardtops, that is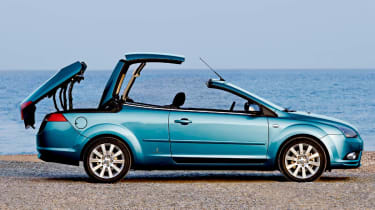 The automotive incarnation of an Italian businessman wearing a blue suit with tan shoes. That's how one particular colour combination available on the Ford Focus CC was described to us at the press conference. In fact the whole Italian thing was played on quite a lot, largely because of a small badge on the side of the CC indicating that it was designed in co-operation with – and will be built by – Pininfarina. To be honest, though, the CC looks like what it is: a Focus with a bit more chrome and a large arse.
The CC's underpinnings take several components from the ST, although retuned for the increased weight. Unfortunately, however, that doesn't include the ST's five-cylinder, so instead we have a choice of petrol or diesel 2-litres. Both hit 62mph in 10.3sec, but although the diesel has considerably more torque, I'd still go for the petrol as it sheds 100kg from the car's weight – something you can feel at the front.
The roads in Tuscany are wonderfully flowing and the CC by no means disgraces itself. It feels heavy on its springs when loaded up mid-corner, but the steering is impressively feelsome. If you really want to enjoy the road then put the roof up (the work of one button and 29 seconds) as it almost doubles the torsional rigidity.
Given its unpromising on-paper spec, the Focus CC's three stars are as impressive as the MX-5's are disappointing.
Specifications
| | |
| --- | --- |
| Engine | In-line 4-cyl, 1999cc, 16v |
| Max power | 143bhp @ 6000rpm |
| Max torque | 136Ib ft @ 4500rpm |
| 0-60 | 10.3sec |
| Top speed | 129mph (claimed) |
| On sale | Now |