Ford closes European plants
To stem rising losses in Europe, Ford has announced the closure of its Belgian car factory in Genk, as well as two factories in the UK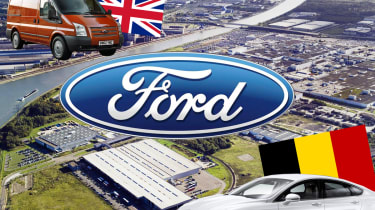 Ford has announced the closure of two of its remaining UK factories as it 'restructures production' in Europe. The news follows earlier confirmation that the Genk factory in Belgium – where the Mondeo and S-Max are built – also faces the axe. 
Closure of the Transit factory in Southampton effectively ends Ford's 100 year history of vehicle production in the UK. From now on, all European Transits will be made in Turkey. The Dagenham stampings plant in Essex is also going to be chopped, although the engine factory on the same site will remain open, as will the engine plant in Bridgend. 
Good news? Little at the moment – Ford Europe's CEO Stephen Odell confirmed that the next generation of Ford's low-CO2 diesel engines will be developed in the UK and built in Dagenham for other European factories.
500 workers will lose their jobs when Southampton closes and another 900 at Dagenham. In Belgium, 4300 face redundancy at Genk, although the plant will remain open until the end of 2014 producing the current Mondeo. Genk has produced Ford's mid-sized saloons since the 1960s, including the Sierra and Mondeo. In the late 1990s the plant was churning out more than 300,000 Mondeos a year – by 2011 total production there had plummeted to less than 90,000 cars. 
Production of the new 'global' Mondeo will be moved to the Valencia plant in Spain. Ford claims the move will reduce chronic overcapacity in the European market, where it has been affected by the collapse in sales that has decimated much of the middle market. The company is expected to lose more than $1.5 bn on the back of its European crisis this year.