WEC field welcomes Ginetta LMP1 pair for 2018
Ginetta confirms the first details of its LMP1 programme for the 2018-2019 'super season'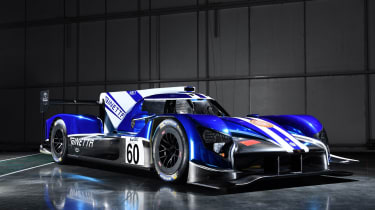 Ginetta will field two cars in the LMP1 class in this year's World Endurance Championship.
Customer team CEFC TRSM Racing will run two Ginetta G60-LT-P1s in the 2018 series, in addition to confirmed entries in both the 2018 and 2019 24 Hours of Le Mans.
It will be the team's third season in the FIA WEC, but its first in the LMP1 class, and Ginetta's first season in the top level too, following its announcement to compete in LMP1 back in 2017.
Two drivers have been confirmed at this stage. The first, 21-year-old Charlie Robertson, is no stranger to success with Ginetta, having raced the company's cars since entering the Ginetta Junior championship at the age of 14 and winning the title in 2012.
From there he moved on to the Michelin Ginetta GT4 SuperCup, winning that series in 2014, and won the inaugural European Le Mans Series LMP3 title in 2015 alongside Olympic cycling champion-turned racing driver, Sir Chris Hoy. Robertson calls his career so far a 'testament to the opportunities and support Ginetta offers to drivers' and describes the move into LMP1 as fulfilling a dream.
He'll be joined by Oliver Rowland, whose most recent career highlights include a drive in Formula 2 and describes endurance racing as 'a new experience'.
The car they'll be driving, the Ginetta G60-LT-P1, made its debut at the Autosport show earlier this year and marks the top step of the Ginetta racing ladder, above the 900kg, 575bhp G57 prototype.
The 2018 WEC series will differ from previous seasons, a result of the championship moving from a summer to a winter schedule. The first race takes place at Spa-Francorchamps in May before moving on to Le Mans in June – but then continues through November at the end of the year, heading to Sebring in March 2019 and finishing in June 2019 with another Le Mans 24 Hours. The 2019-2020 season will then begin afresh in the autumn of that year.