evo Car of the Year 2018 - coming soon
evo Car of the Year is back for its 20th year and we're throwing 2018's most exciting cars at the challenging roads of Scotland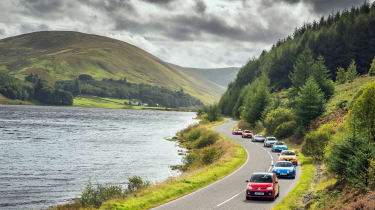 It's the only verdict that matters. evo Car of the Year has been the enthusiasts' stalwart for defining the year's best performance car for the past 20 years, and it's back and better than ever in 2018.
This year, we are taking the year's eight most exciting, most exhilarating cars on the eCoty road-trip, helping us to understand each of the year's contenders on the challenging roads in the Scottish borders.
In celebrating our 20th anniversary of eCoty, we also look at our past heroes, and talk to the people who defined the genre including John Barker, Jethro Bovingdon, Henry Catchpole and Harry Metcalfe.
But of course, 20 years of eCoty means that there are 20 years worth of magnificent performance cars to experience, and while some have become icons in their own right, others now represent a more accessible motoring nirvana. We bring these three past used eCoty heroes together to see how they stack up against each other, and the modern performance cars from eCoty 2018.
To read the verdict, make sure you pick up issue 257 when it hits the shelves on December 21.