Ariel has marked the tenth birthday of its Atom track car with a new model. The Ariel Atom Mugen gets a tuned version the 2.0-litre naturally aspirated Honda Type-R engine from the regular Atom, with 270bhp.
That's a 25bhp increase on the Atom 3, and enough to increase the car's power-to-weight ratio from 498bhp/ton to 549bhp/ton – that's more than a Bugatti Veyron, and should be enough to see the Atom's already impressive 3.2sec 0-60mph sprint fall. It also boasts more power than Mugen's tuned Honda Civic Type-R.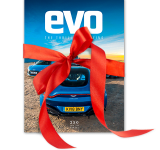 Subscribe to evo magazine
If you're passionate about the world's greatest performance cars, experience the thrill of driving with evo magazine. Try your first 5 issues for £5.
Only ten Ariel Atom Mugen's will be built, each one with a special livery and a numbered plaque signed by the Mugen and Ariel technicians who worked on its build.
'We found that both ourselves and Mugen had the same meticulous attention to detail in the build of our cars and their engines', says Ariel director Simon Saunders. 'One Ariel technician makes a car, one Mugen techncian builds an engine. The result is a truly hand made car with a hand made engine.'