Hyundai Coupe V6
All Roger Green wanted for Christmas was a brake upgrade and some new seats on his Hyundai...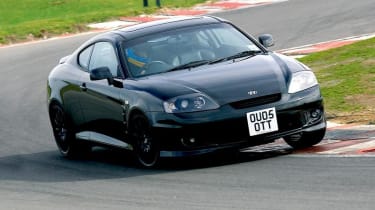 It's been a frustrating month with the Coupe, but that has by no means been the fault of the car. For some time now I've been looking to upgrade its braking performance, especially since we fitted the Dunlop Direzza trackday tyres. With stickier rubber, grip levels easily exceed the performance available from the standard stoppers, making brake fade more pronounced on track.
The simple solution was a pad upgrade, so I contacted the chaps at Demon Tweeks for advice. Apparently a set of Ferodo race- spec items were what I needed, but as they'd need to be made to order I'd have to wait a week or two for them. No problem, I thought, as they'd still be here in plenty of time for the final evoactive event of 2006. Unfortunately that was about six weeks ago, and as I write I'm still waiting. We are promised them very soon…
The other enhancement planned for this month was to be the fitting of a very sexy pair of Recaro chairs. I'd been waiting several months for these, although this time the delay was because I wanted to fit the latest spec seats and so had to bide my time until they were available in the UK.
When the big day came earlier this month, I eagerly shot over to BR Motorservices in Leamington Spa for them to be fitted. Imagine my disappointment, then, when we discovered that the runners supplied were the wrong length for the Coupe. I feel like a kid at Christmas with all the latest toys but no batteries.
Running Costs
| | |
| --- | --- |
| Date acquired | August 2005 |
| Total mileage | 14,102 |
| Costs this month | £0 |
| Mileage this month | 1,130 |
| MPG this month | 24.3mpg |