Hyundai Veloster rally car video
Hyundai Veloster rally car is put through its paces in this video, staking a claim to the 2011 U.S. Rallycross Championship title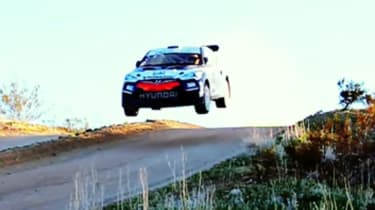 After being unveiled at the Chicago motor show in February, Hyundai has released this video of the Veloster rally car boasting its off-road potential.
With a hand-built Hyundai 2.0-litre four-cylinder engine boosted by a HKS ball bearing turbocharger, this beast has some real power and the Korean manufacturer claims it can spit out out 500bhp and 600lb ft of torque. 
The Veloster is competing the 2011 U.S Rallycross Championship and is also set to take on the Ford Fiestas of Tanner Foust and Ken Block at this year's Summer X Games.