Hyundai Veloster Midship concept
Hyundai has created a mid-engined, rear-wheel drive Veloster concept. Details and pictures here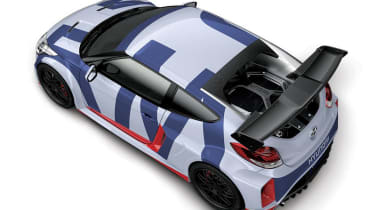 Hyundai has unveiled a high-performance mid-engined hatchback at the Busan International Motor Show. Based on the Veloster, the Midship concept has seen its rear seats removed and replaced with a 296bhp Theta GDI 2-litre turbo engine.
Pushing power through the rear wheels, the engine's position ensures the car's weight distribution has been greatly improved, drastically change the handling and balance. Hyundai's high performance team wanted to improve handling further, by fitting lightweight aluminium suspension, strengthening the chassis.
The exterior has received race-style upgrades too, with a body kit sporting side intakes and wide arches. A rear diffuser sits below a large, three planed rear wing whilst the rear window offers a glimpse of the car's mid-mounted engine.
With the car's development team having also created the i20 WRC car, there's no doubting this mid-engined Veloster would pack some punch around a race-circuit. But Hyundai emphasises that this car is to remain a one-off demonstration.