300 UK jobs created with Infiniti Q30 production
Infiniti invests £250million in Sunderland production plant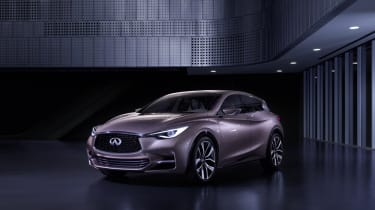 Infiniti is creating 300 new jobs in the UK automotive industry after investing £250million into parent company Nissan's Sunderland production plant. The carmaker's forthcoming Q30 hatch and following QX30 compact crossover will be built in a new 25,000 square metre facility, making Infiniti the first brand to commence UK production on such a scale for 23 years. 
The news comes not long after the UK automotive industry announced production for the domestic market had grown by 19.4 per cent in the first quarter of 2015, with total units up to 135,445 at the end of April, compared to 113,435 for the same period in 2014. This was met by a seven per cent decrease in export production (totalling 395,060 units) however, so Infiniti's production plans will be a welcome announcement.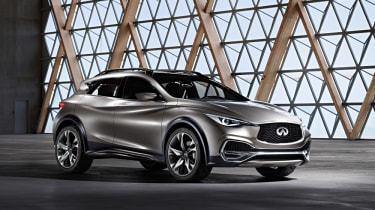 'It's a fantastic time to be joining the company, as we prepare to launch Infiniti's first premium compact entry for global markets,' says Colin Lawther, Senior Vice President for Manufacturing, Purchasing and Supply Chain Management in Europe. 'In return we'll be looking for people who share the same obsession for detail and commitment to quality as our highly-skilled workforce in Sunderland.'
In 2012 Infiniti had predicted its plans would create around 180 jobs, but with its first ever UK built cars headed for the fast growing North American and Chinese markets, a further 120 employees are now required. The total workforce at Sunderland will amount to almost 6800, supporting around 28,000 other UK jobs in the wider automotive supply chain.
Infiniti's sales figures are still fairly small in the UK – just 746 cars were sold here last year – but global sales amounted to 186,200, up 13.5 per cent from 2013.