An interview with Sir Chris Hoy at Le Mans
Watch a video interview with the six times gold medal winner here
Unless Sir Bradley Wiggins, Dame Sarah Storey or Sir Steve Redgrave happen to be reading this, I think I can fairly confidently say that Sir Chris Hoy is different to you and me. And yet… he also isn't that different. Like you and me, he loves cars and not just cars, but driving. Always has. And, probably like many of us, he used to dream of competing at the world's greatest motor race. But even when he retired from professional pedalling, taking it any further than the trackdays he'd always done wasn't something he ever thought was possible.
However, winning six gold medals at the Olympics brings opportunities and Hoy has grabbed his subsequent chance to go motor racing at the highest level with both hands. From his first steps in Radicals, then through British GTs and the ELMS with Nissan, to Le Mans itself he has thrown himself into the opportunity with all of the same enthusiasm, delight and verve that I think any of us would display given the same chance. I've bumped into Sir Chris in various pitlanes a few times during the last three years and every time he has been smiling and revelling in the driving. He's very aware that he is living lots of petrolheads' dreams and, rather endearingly, he still has the air of someone that has to pinch themselves to check it's really happening.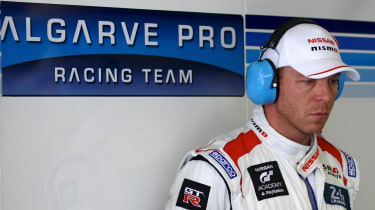 Everyone I've spoken to has been impressed with his abilities behind the wheel too. I remember Andy Wallace, who did some coaching with him during his first year, commenting on the speed at which Hoy picked things up. I randomly met Grant Wardrop, who has been producing a documentary about it all (and is also an evo reader), and noted that Hoy has never crashed any of the cars he's raced, which is quite an achievement. Hoy's rise through the ranks has undoubtedly been meteoric but he has stepped up to the plate every time. Again that self-awareness has meant that he has wanted to do the huge opportunity justice at every stage and to that extent he has switched the dedication, application to improvement and sheer professionalism that won him the Gold medals on a bicycle into learning how to race a car.
When he arrived at Le Mans last week with the relatively small Algarve Pro Racing outfit, he wanted to feel like he deserved his place in the number 25 LMP2 car and wasn't some celebrity ballast in the team. His triple stint during the early hours of Sunday morning and the times he set the way to their 17th place overall finish showed beyond doubt that he deserved to be there, living the dream.