Koenigsegg and electric car maker NEVS announce technical partnership
NEVS invests €150m to take 20 per cent share in Koenigsegg's parent company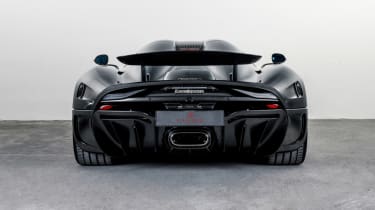 Legendary hypercar manufacturer Koenigsegg has paired up with fellow Swedish electric car manufacturer NEVS to develop new models of a higher volume and with further emphasis on electrification.
The deal will see NEVS take a 20 per cent minority share in Koenigsegg's parent company with a €150m (£130m) cash injection. Together, the two companies will form a new joint venture, which will also see NEVS contribute a further $150m (£113m) for a 65 per cent share in the venture, the remaining 35 per cent going to Koenigsegg – made up from its intellectual property, technology licences and product design.
> Click here for our look at the Koenigsegg Regera
What this joint venture will produce is so far unknown, but it will leverage the inherent strengths of both companies to produce electrified performance cars. Koenigsegg will also benefit from the extra manufacturing capacity at NEVS' production facility in Trollhättan, while maintaining its engineering centre in Ängelholm.
NEVS also has further manufacturing capability within China, and just last week announced its parent company, Evergrande's, acquisition of Chinese battery manufacturing company, Shanghai CENAT New Energy Co, further closing the supplier loop required to develop and manufacture electric cars.
What does this mean for Koenigsegg's future hypercars? Aside from the inevitable move towards electrification, something already achieved with the hybridised Regera, Koenigsegg's core hypercar focus will remain, something that will continue in March this year with a reveal of an all-new replacement for the track-focused Agera known internally as the 'Ragnarok'.
For now though, Koenigsegg looks to be further cementing its place in the market, diversifying into a new field with strong new partnerships and a welcome injection of cash.