KTM X-Bow: KTM X-Bow update
KTM progressing X-Bow development, with testing scheduled to have started in late January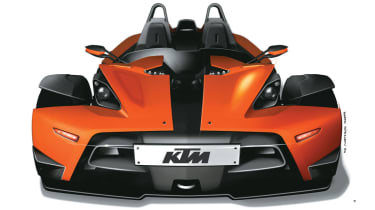 Following a visit to KTM's factory in Austria we can reveal that three X-Bow trackday-cum-road car prototypes are in the process of being built. One will be used for homologation and crash tests, one for chassis tuning, and the third will appear at the Geneva show. Testing has begun in late January, and the first production cars are on target for release in the second half of 2007. Expect a one-make KTM race series to be ready for 2008.
The six-speed manual version will weigh 700kg, but most cars are expected to be equipped with the optional (Audi) DSG gearbox that weighs 20kg more. Thanks to the X-Bow's low weight, the speed of the DSG shift can be made much quicker. The engine is also offset in the chassis so the weight of a driver is balanced out by that of the engine – in left-hand-drive cars, at least.
KTM tells us that originally the X-Bow was to be a joint venture with Audi. However, Audi insisted that if it was to wear the four-ringed badge the car would have to come with all the normal safety equipment, including airbags. Unwilling to compromise the spirit of the X-Bow, KTM elected to continue the project on its own.
European law stipulates that there must be wipers and demisting if you have a windscreen, so the X-Bow does without one. Bespoke helmets that offer shelter from the elements, rather than full crash protection, will be sold with the car; there are special stowage areas for them in the cabin.
KTM is hoping the X-Bow will achieve 200kg of downforce at 124mph thanks to its rear diffuser. Performance options will be available from the start of production, with a simple chip conversion boosting the Audi-sourced 2-litre turbo engine from 220 to 300bhp.