Second Lamborghini Zagato 5-95 revealed
Zagato has revealed the second re-bodied Gallardo model, before it is shipped off to its owner. Details and pictures here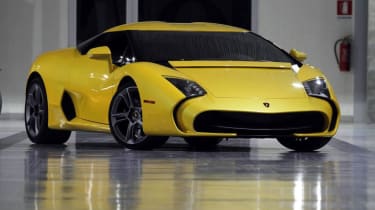 Italian coach builder Zagato has unveiled its second rebodied Gallardo, releasing images of it displayed at the Zagato factory in Milan. Called the 5-95, the arrival of this second example comes with confirmation that three more of the ultra exclusive supercars will follow.
Flaunting a double-bubble roof, wraparound windscreen and floating front spoiler, the car was designed with inspiration from Zagatos of the past. It also sports new alloy wheels with sharp angles, and is painted in a much more 'Lamborghini' yellow.
Under the skin the 5-95 is essentially a Gallardo LP570-4, meaning it has the same 562bhp 5.2-litre V10 mounted behind the cabin. That should be enough to propel the car from 0-60mph in just 3.5secs, and onto a top speed of over 200mph.
The first 5-95 was unveiled at the Concorso d'Eleganza Villa d'Este back in May, after being commissioned by Lamborghini collector, Albert Spiess. Though there's no confirmation of where the following four cars will end up, the buyers will no doubt have to fork out significantly more than they would have for a standard Gallardo and even its replacement, the Huracan.