evo Magazine November 2014 - Lamborghini Huracan!
We drive more than 2000 miles in the new Lamborghini Huracan. Plus: BMW i8 v Porsche 911 and Audi R8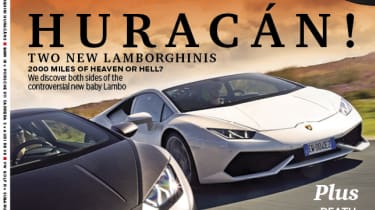 Try evo Magazine's new app on iPhone or iPad
Try evo Magazine's new app on Android devices
Buy a copy of evo 201 in our online shop
Subscibe to evo electronically on Zinio here
Lamborghini Huracan

It may have more than 600bhp and it may look as outlandish as any other recent Lamborghini, but there are underlying concerns that the Huracan isn't quite as spectacular to drive as its design suggests. Meaden takes one to the North York Moors to decide once and for all, while Prosser spends a week in another, putting it to a longer test by driving it all over England. It's a dirty job, etc.
BMW i8 v Audi R8 v Porsche 911

BMW's hybrid sports coupe may have broken new ground in the technology stakes, but it still has to face up to rivals that are more conventionally powered. We pit one against an R8 V8 and a 911 Carrera S on road and track
Broadley T76

British carmaker takes the design of the stunning Lola T70, recreates it for the modern day at a quarter of the current values of the original car… and gives it to Meaden to race at Silverstone
Subaru WRX STI v VW Golf R

Subaru's rally-honed legend now has a similar price and power output to the top hot hatches. We see how it fares against one of the current benchmarks.
The Future of Motorsport

What will motorsport be like 125 years from now? How can the current sport be improved? We grill the experts
Audi Racers

A track outing in Italy with the R18 e-tron LMP1 car and the GT3 R8 – the two cars that have cleaned up at this year's big three 24-hour endurance races
Tyre Test 2014

Reader Rob Chittock emailed us to ask which would be the best tyres for his Audi TT, so Henry headed to Italy with Golf GTI and laptop. This is for you, Rob…
New cars driven
We try out the new eight-speed Aston Martin Vanquish, revised Rapide S and get a proper go in the Renaultsport Megane 275 Trophy on UK roads. Also driven: BMW M3, Mercedes-Benz SL400 AMG sport and HCC Motorsport Ford Fiesta ST
News
The full technical lowdown on McLaren's borderline-insane P1 GTR, and a picture postcard of the, well, er, picture-postcard setting that is Monterey Car Week in California
Columns
Meaden's swapped four wheels for two in an attempt to relive his youth, while Porter, not to be outdone in the low-speed stakes, is in an old Montego
Letters
You tell us what bits you'd like to see on your Ultracar, and recall the cars you've owned for the shortest and longest times
Long-Term tests
Dobie's gone, and that means the Clio Williams has lamentably gone with him. Meanwhile, the Secret Supercar Owner is mulling over his options with his Ferrari F40
evo knowledge
If you're in the market for a used Audi S3, read this before you even think of checking evo Cars for Sale. Then buy a top-notch example and take it on this month's Great Drive on the Isle of Mull
Art of Speed
The (deep breath) dihedral synchro-helix actuation doors that have become a recognisable styling cue of Koenigseggs
Try evo Magazine's new app on iPhone or iPad
Try evo Magazine's new app on Android devices
Buy a copy of evo 201 in our online shop
Subscibe to evo electronically on Zinio here