Lamborghini Murcielago
You might be forgiven for thinking it a little unusual to see a Lamborghini on a campsite, washing line attached, complete with a selection of laundry strung from it. But this is Le Mans, where anything goes.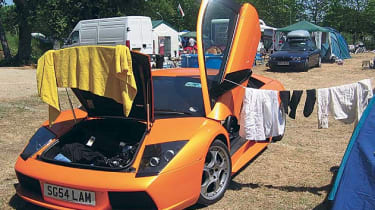 You might be forgiven for thinking it a little unusual to see a Lamborghini on a campsite, washing line attached, complete with a selection of laundry strung from it. But this is Le Mans, where anything goes. In fact parked nearby was an F40, along with six other Ferraris, a hearse (complete with coffin) and a motorised bed. If you're going to do Le Mans, then camping is the only way to go, whatever your mode of transport.
Rewind a month and the Murcie was undergoing its 15,000-mile service at Lamborghini Manchester. It's a big one, and includes checking valve clearances, new plugs (£15 each) and many other credit card-depleting jobs. Presenting the bill for £2918, even the service receptionist looked apologetic. That wasn't all. I knew the pads were on their way out too, but at £1600 a set (Lamborghini prices) there had to be an alternative. I contacted Tim Phillips at Circuit Supplies (01525 385888) and, after a bit of detective work on his part, he was able to confirm that they were in fact standard Pagid blues, and within a couple of days I had a new set at £303 delivered. Relief...
Regular readers may remember that the Fast Fleet's Exige recently underwent the full Autoglym treatment at their HQ. As the Lambo was looking in need of a bit of TLC, I'd decided to go down the Zymol route. So I put a call in to Dave Bowerman (dbvaleting@aol.com), an authorised Zymol specialist. He arrived at 8am one wet morning and spent a full nine hours applying a four-stage protective coating including a final coat of 'Vintage' wax, retailing at £1800 a tub (yes £1800!). It's this that forms a protective shell that is supposed to protect against even the dreaded bird droppings. Verdict? Well, at £250 it isn't cheap but I reckon it's superb value. I'm still stunned by the glass-like finish and, even better, I haven't had to wash the Murcie with soap since; simply give it a hose-down and the dirt just seems to roll off.
But back to foreign lands, and with the temperature at Le Mans in the high-30s the usual pre-race evening antics abounded. Cruising through Arnage, anyone who refused to partake in burnouts or at least rev the engine was liable to have their car doused with beer. Unfortunately the surly gendarme who stopped me for succumbing to temptation and gunning the V12 refused to join in the spirit of things. Only some fast talking averted a fine, especially after my rather-the-worse-for-wear friend helpfully added that Paris would be called Berlin if it hadn't been for the Brits.
I'd decided that since we were in European climes we might as well use the opportunity to take the Lambo back home to Sant' Agata via the San Gottardo pass over the Alps. And so, after the race ended on Sunday, we travelled east, via Paris, Reims and Strasbourg, before crossing the German border and heading south on the E35 autobahn to the Swiss border at Basle. Intermittent roadworks here prevented anything more than short bursts to an indicated 180mph. Stability at speed is one of the Lambo's strengths, especially in the wet, where its 1650kg and 4wd are hugely confidence inspiring. The tendency for the windscreen wiper to lift off the screen at 120mph-plus, however, is not.
A couple of hours later and we were climbing steeply up the 2092m Saint Gotthard pass. With its lack of tight hairpins and abundance of sweeping bends, it's actually easier on the brakes than you might imagine, and the stunning scenery with its long snow-tunnels and viaducts makes this a spectacular alternative to the 15km tunnel that runs beneath.
After crossing into Italy and spending a night at Como (sleep assisted by more than a few Peronis), we head south the next day to Maranello. Rumbling across Ferrari's hallowed turf in a bright orange Lamborghini, I feel as conspicuous as a giraffe at a polar-bears-only picnic. However, we pass numerous F430s out on test and never fail to receive a flash of the xenons and a thumbs-up from the collaudatore (test drivers). Any rivalry is obviously of the friendly variety.
Thirty kilometres later, I point the Murcie's short nose through the factory gates at Sant' Agata. A tour of the factory and lunch in the spotless canteen confirm what a friendly and passionate bunch the staff are, but despite my pleading there's to be no tour of the R&D department today.
After a couple of hours we're on our way again, this time to Genova on the coast. Sounds lovely, but in truth it's probably the Italian equivalent to Blackpool and we don't stay too long. Instead we opt to have a short break at David Coulthard's own Columbus Hotel in Monaco, a couple of hundred miles away. A fabulously chic, friendly and car- orientated hotel with superb staff and none of the pretentious glitz of its rivals, it's a great place to chill out for a couple of days. Apart from a 20 Euro fine for speeding through the famous F1 tunnel, our stay in the principality is otherwise uneventful, and we head through Nice and St Tropez before turning north on the long and boring trek to Calais.
Back home 4500 miles later, there hasn't been so much as a murmur from the Murcie, and I'm struggling to find anything negative to say about this supercar: 20000 miles in less than a year, and it just gets better. I'm just trying to forget what it'll be worth when it's time to trade it in...
Running Costs
| | |
| --- | --- |
| Date acquired | September 2004 |
| Total mileage | 20,248 |
| Costs this month | £2918 (service),£918 (tyres), £303 (brake pads) |
| Mileage this month | 4517 |
| MPG this month | 15mpg |