Lamborghini Murcielago
The Murciélago rides again, and after its long repair hiatus, its crackling fit and spitting flame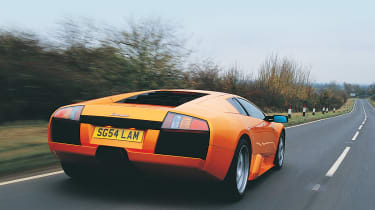 The neighbours have had a pretty long respite from the Murciélago literally rattling their windows recently, so it can't have made their day when the orange monster reappeared after its engine work with a new soundtrack and some added special effects.
Removing the factory cats has given the Lambo's Tubi exhaust a beautifully hard but somehow cleaner note that is actually fairly easy on the eardrums (on the inside at least).
Less so are the loud cracks that now emanate from the rear on downshifts or when lifting off. And if they're the main performance, then the finale must be the yellow flames that are spat out of the tailpipes at the same time. What they'll do to the paintwork is anyone's guess, but I think I'd best stay away from petrol tankers. And keep a fire extinguisher handy.
With the new oil pump fitted I'm pleased to say that pressure is vastly improved, which has gone a long way to steadying my nerves since the demise of the Lambo's warranty. The new clutch, meanwhile, is taking some getting used to – Murciélago clutches get noticeably heavier when they wear, so the new, extra-light version has resulted in more than a few stalls, which always seem to happen in front of an audience…
So all in all I feel like I've got a new Lambo again, one that exaggerates the Murciélago's already wild character. It's great to have it back, though I doubt the bank manager will agree.
Finally this month, a correction. In my last report I gave out an email address for Cristina Guizzardi at Lamborghini, with whom evo readers can arrange a tour of the factory and museum. Unfortunately, I got the address wrong – it should have been cristina.guizzardi@lamborghini.com
Running Costs
| | |
| --- | --- |
| Date acquired | September 2004 |
| Total mileage | 37,411 |
| Costs this month | £0 |
| Mileage this month | 379 |
| MPG this month | 10.0mpg |