Low mileage is no guarantee of good condition – specialists such as John Whalley advise putting aside £4000-5000 of 'just-in-case' money for any car you buy. It's also a good idea to get any potential purchase checked by an expert, for authenticity (there are fakes around) as well as good health.
EngineCheck that the cambelt servicing has been done, and that means looking at garage bills and not just ticks in the service book. It's vital that the cambelts are renewed every 24,000 miles on the 16-valve, or 36,000 miles on the 8-valve. With a replacement 16-valve motor costing about £5500, it's worth making the effort to check.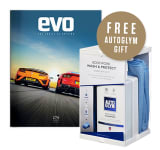 Subscribe to evo magazine
Subscribe today to our exclusive new offer and SAVE 39% on the shop price, get evo for its original cover price of £3.00 an issue, plus get a FREE gift worth £20!
Same goes for the oil level. If it gets too low the number three big-end bearing may signify its displeasure by seizing and breaking the crankshaft. Cost of repair? Think the other side of £2000.
If the car you're looking at still has the original turbo, as the mileage hits the other side of 80,000 miles, replace it. Even if it's still functioning, blade wear on the turbine will have rendered it very inefficient.Transmission
A clutch should last around 60,000 miles. Judder, slippage and a 'wooden' pedal are signs that a replacement will soon be required: expect to pay £800 fitted.
Suspension and brakes
Keeping the chassis in fine fettle is no simple task. Front suspension bushes will have lost their sparkle by 40-50,000 miles, while those on the rear trailing arms are likely to be shot by 30,000 miles. On the Evolution the front anti-roll bar drop-links need replacing roughly every 20,000 miles (they knock against the floorpan), while the dampers are done by 60,000 miles. You might get as much as 45-50,000 miles from a set of front brake discs, but the pads are generally fried by the mid-20s.Bodywork and interior
Lancia's notorious rust issue doesn't affect the Integrale, but it's now an old car so there are some bodywork grot-spots, notably around the windscreen and sunroof, the bottom of the doors and tailgate, the sills and the rear wheelarches.
Cabin fittings are classic examples of 1980s Italian flimsiness.
Specifications
Engine In-line 4-cyl, 1995cc, turboMax power 212bhp @ 5750rpmMax torque 232lb ft @ 2500rpmTransmission Five-speed manual, four-wheel driveTyres 205/45 ZR16 front and rearWeight (kerb) 1340kgPower-to-weight 161bhp/ton0-62mph 5.7sec (claimed)Top speed 137mph (claimed)Price when new £25,000 (1993)
Parts prices
Supplied by John Whalley, Integrale specialist. Tyre price from Carson Tyre & Autocare. All prices include VAT at 20 per cent.Tyres £85.92 each (Hankook K110, fitted)Brake pads (front set) £135.55Brake discs (front pair) £141.00Clutch kit £323.57Oil filter £11.28Air filter £22.22Exhaust system, cat-back £214.80
Servicing
Oil service £99.999000-mile service £165.9218,000-mile service (including fuel and air filters, brake fluid, gear oil change and brake check) £527.84Cambelt change (including all tensioner/idler bearings and auxiliary belts) £751.90
What to pay
Integrale prices vary wildly, from £4K for an 8-valver in need of substantial TLC, through to £37,000 for a 1996 Evo II in spanking condition. Generally, though, less than £10,000 should find you a 16-valver with lowish miles, while the Evo models begin in the mid-teens for something in average nick.
Evo IIs restored and in 100 per cent condition now command around £25K, though some vendors are testing the waters with prices far higher even than that. Integrales imported from Japan are clouding matters slightly: these cars should be inspected thoroughly.
Useful contacts
www.whalley-integrale.uk.com (specialist)www.walkers-g arage.co.uk (specialist)www.tancbarratt.co.uk (specialist)www.lanciasport.com (enthusiasts' club)www.lancia.org.uk (specialist)www.evo.co.uk (cars for sale)