'Look beyond the obvious and the Land Rover Discovery has an appealing skill set'
Driven with a gentle touch this chunky bus will swoop across the countryside feeling imperious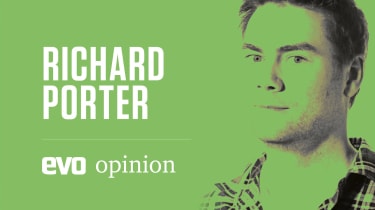 The current Land Rover Discovery is one of those cars defined in the popular imagination by one thing: it has a wonky arse. Last summer I told a mate I'd borrowed one for a week away and his first response was, 'Has it still got a wonky arse?' Then, while I had it, I dropped in on another friend who approached it from the front with the words, 'Oh wait, is this the one with the wonky arse?'
It doesn't matter what the Discovery does or achieves in its life, it's like that kid in the year below at school who got famed for soiling himself on a school trip to Alton Towers.
'Did you hear about Paul Liversedge from school? He's become an emeritus professor of oncology at Harvard and just won the Nobel Prize for curing all known cancers.'
'What, the kid who shat himself on a rollercoaster?'
So it is with the current Discovery. Overshadowed by the new Defender and various glamour puss Range Rovers, and forever known as that car with the wonky arse. Which is a shame because after a week away in one I've become very, very fond of it.
> Land Rover Discovery 2021 review – still a fine family hauler
There are various reasons to admire this car, especially when viewed through the lens of a family holiday in which the sink we packed still had the rest of the kitchen attached to it. Our kids travel with a surprising number of things for people so small, some of it relating to their ages and some to their desire to take a full dayglo plastic facsimile of a Time Team excavation kit to the beach. So we require space. And, because we have a large dog, more space on top of that. The Discovery has it, especially if you're not using the third row of chairs, which retract neatly into the floor.
The other thing I like about this Land Rover is that it's glassy, so the whole inside feels light and spacious, even when 80 per cent of the stuff from our house is now inside it. Oh, and you can drop the air suspension using buttons in the boot, which I'd found inexplicable at first, before I'd tried to get a slobbering mutt with a gammy back leg to leap inside. Now I understand.
So it's a car that's very fit for purpose, especially if your purpose is a family holiday to a part of East Anglia that is, as turns out, so thick with out-of-towners in Land Rovers that it looks like a Boden advert. But it's not the room or the ambience or the remote curtsy function that won me over with the Discovery, nor indeed its ability to blend into an environment full of people in quilted jackets loudly shouting, 'I've told you Raffy, you can have your millefeuille later…' No, it's what happened on the last night of our holiday.
On the way home we'd stopped to see some friends not far from where we'd been staying, everyone was having a nice time, our kids were playing happily together, we stayed a lot longer than intended. You know the drill. So it was dark by the time we set off. The kids, exhausted but happy, started to doze in the back. My wife was doing likewise in the front passenger seat. The dog curled up on a towel in the boot, her presence signalled only by an occasional whiff of damp hound since earlier in the evening she'd jumped into a stagnant pond, which seemed to make her the happiest family member of all because she is a dog and also an idiot.
Up front, fuelled by a punchy coffee and a firm desire to get the things I love most back to London in one piece, I wound the Discovery towards the A11. It's not a sports car, but there's enough accuracy in all the controls that you can drive it briskly. More importantly when you've got semi-sleeping humans on board, you can drive it smoothly. With a gentle touch this chunky bus will swoop across the countryside feeling imperious and purposeful.
As we finally got onto the dual carriageway the rain came, great sheets of it sweeping across the East Anglian flats and spattering off the slick tarmac ahead. The Discovery felt unfazed, trucking onwards, wipers swashing, tyres hissing gently over the wet surface. The interior a cosy bubble, feeling safe and warm against the summer storm outside.
On we went, the car hunkering down squat to the sodden road as we flashed across the landscape, towns and villages and remote farms twinkling in the inky distance until at last the city hove into view and a short while later we turned into our street. The rest of the car woke up and stretched, and I sighed with satisfaction behind the big tiller steering wheel, full of love for the big old Discovery and its stupid, wonky arse.
It's a very good family car, no doubt about that. But sometimes the best car in the world is simply the one that gets you home.