BMW Z4 sDrive 35i
Our Z4 took a trip to Wales in its stride, so first impressions are extremely favourable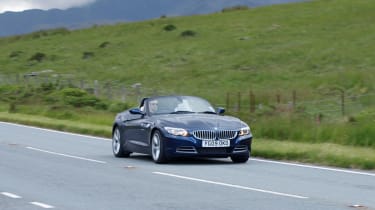 What a useful coincidence. One of the first things I did with the SLK long-termer I ran last year was take it on holiday. Now I'm running that car's newest competitor, and guess what one of the first things I did with it was.
The Z4 showed an advantage even before we set off thanks to its storage space. Although, roof up, its boot is only slightly more capacious than the SLK's (310 litres plays 300), the small shelf behind the seats in the cabin (something the SLK lacks) proved ideal as an overflow, so everything we needed for a week in north Wales fitted in – waterproofs, walking boots, camera kit, self-catering gubbins, a kite, the lot.
Once in Wales, the BM's twin-turbo 3-litre six made light work of steep gradients (with 295lb ft from a mere 1300rpm, who needs an auto 'box?) and showed impressive levels of economy (28.6mpg average for the week). Meanwhile, the default setting for the adaptive suspension was perfect for cruising around and taking in the views (roof down, natch), and the sportier options were just the ticket for a couple of swift laps of the evo Triangle, where the 302bhp engine got to show the other side of its character.
In short, the Z4 did everything asked of it without fuss. Perhaps that's why not once all week did I wish I was in a different car, Z4 rival or otherwise. I'm impressed.
Running Costs
| | |
| --- | --- |
| Date acquired | June 2009 |
| Total mileage | 4833 |
| Costs this month | £0 |
| Mileage this month | 2193 |
| MPG this month | 25.0 |