BMW Z4 sDrive 35i
Our scepticism of the Z4's Dynamic Drive Control system melted after we tested the car's track prowess at Bedford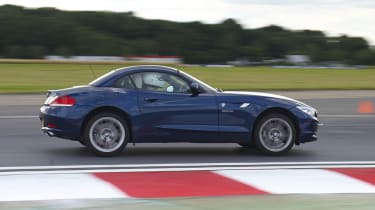 Sport buttons. I just don't get 'em. Either they make the accelerator too twitchy and the suspension too firm, or they just sharpen things up to the level they should have been at in the first place, making you wonder if, like the 'Loudness' button on a cheap hi-fi, the default setting is only there to make the enhanced one seem better.
So, needless to say, at first I was a little sceptical about the Z4's Dynamic Drive Control system, which offers a choice of three settings – Normal, Sport and Sport+ – affecting the adaptive M Sport suspension (a £930 option), throttle and steering. But as the miles have passed I've warmed to, and regularly use, all three modes.
Normal is perfect for cruising on dual carriageways or getting gently from A to B when you've got a passenger on board, the compliant ride and light steering making for relaxing progress. Sport and Sport+, as you'd expect, make things progressively sportier, but, impressively, the changes aren't overdone, so the ride never becomes unbearably harsh and the accelerator never turns into an on/off switch.
Sport+ also relaxes the stability control, which, given how often the DSC light flashes in the other two modes, might not seem like the wisest of moves, but it's actually a very good one, because those flickerings aren't caused by the 35i's M3-matching 295lb ft of torque overpowering the rear Bridgestones, they're merely reporting the back wheels being momentarily and minutely upset by surface imperfections – something that happens all too easily thanks to the stiff sidewalls of the Z4's run-flat tyres. Such caution is probably no bad thing on greasy tarmac, but on dry roads it simply isn't needed, and freed of these interruptions the Z4 really flows along a road.
And around a track too, as I had the pleasure of discovering at this year's evo trackdays at the Bedford Autodrome, where Sport+ allowed the Z4 to be really pushed without DSC interfering, while huge rear-end grip enabled its power to be deployed effectively. Yes, there was still a surprising amount of roll evident, and in typical BMW style the brakes weren't entirely happy with repeated big stops, but it was a genuinely entertaining thing to drive hard round a circuit, being not only properly fast, but proper fun too.
Running Costs
| | |
| --- | --- |
| Date acquired | June 2009 |
| Total mileage | 8893 |
| Costs this month | £0 |
| Mileage this month | 1158 |
| MPG this month | 24.1 |