Infiniti G37S Coupe
Ian Eveleigh gets acquainted with his new Infiniti long-termer on a holiday to the Lake District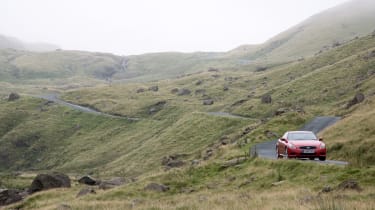 There are few better ways to get to know a new car than to take it on holiday, so a week in the Lake District just a few days after GG10 EVO arrived couldn't have been better timed.
The first discovery came before setting off. While loading luggage into the car, it soon became apparent that, despite what you might assume from looking at the G Coupe's exterior, its boot isn't that big. In fact it's smaller than the one in my old Z4 long-termer (275 litres versus 310). That said, there is a welcome space-saver spare wheel beneath the Infiniti's relatively high boot floor, and with the rear seats folded flat there's ample extra load-space, so two-up it's not really an issue.
The five-hour journey to the heart of Cumbria breezed by. On the motorway, with the cruise control set to a licence-protecting speed, the 316bhp 3.7-litre V6 was whisper- quiet and the ride, while displaying a suitably sporting firmness, proved perfectly comfortable.
The Lakes may not possess many roads suitable for sampling a car at speed, but there are plenty that provide other stern tests. The narrow, stone-walled lanes, for example. These were no problem in the G37, which is easy to place accurately, while its all-round parking sensors helped out during particularly tight low-speed manoeuvres. The greasy 1-in-3 gradients of a wet Hardknott Pass? Nothing the limited-slip diff and traction control couldn't conquer. Numerous hill starts? A doddle with the auto gearbox. Steep descents? Ditto, especially with the occasional flick of the left-hand paddle to effortlessly select a lower gear.
Combine all these skills with a sat-nav that warns you of fixed speed cameras and helps you find places of interest via its integrated Michelin guides and you've got a cracking holiday car.
Yup, as starts with a new long-termer go, this has been a good one. If it can keep impressing like this, I've got a feeling the Infiniti and I are going to get along swimmingly.
Running Costs
| | |
| --- | --- |
| Date acquired | July 2010 |
| Total mileage | 4446 |
| Costs this month | £0 |
| Mileage this month | 1971 |
| MPG this month | 25.1 |