Vauxhall VX220 Turbo
The AA had just been out to the evo office to fix one of Brett Fraser's temperamental motors and as the helpful chap packed up his tools he asked after our VX220 Turbo. 'How's the VXT then? I've been out a couple of times to fix it now...' A statement, you might think, that would mean we were glad to see the back of the VXT. Well, no actually. It's certainly tried my patience a few times (although it was the dealer rather than the car that really frustrated) but after 13 months and almost 13,000 miles it hu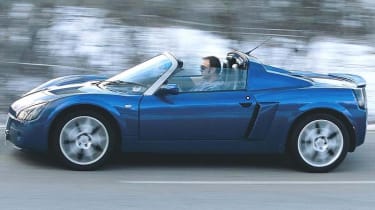 The AA had just been out to the evo office to fix one of Brett Fraser's temperamental motors and as the helpful chap packed up his tools he asked after our VX220 Turbo. 'How's the VXT then? I've been out a couple of times to fix it now...' A statement, you might think, that would mean we were glad to see the back of the VXT. Well, no actually. It's certainly tried my patience a few times (although it was the dealer rather than the car that really frustrated) but after 13 months and almost 13,000 miles it hurt to see it go. It's just one of those cars. Whatever niggles it suffers, you just want to get in and drive the thing, and when you do it's a rare treat.
A short blast in the VXT is all it takes to know that it's a remarkably composed and brilliantly poised sports car. Spending a year with it only increased our admiration for the ride/handling compromise and punchy engine but we knew it would face a tougher challenge in its role as everyday runabout, long-distance hauler and occasional trackday partner. We drove the car through summer, autumn, winter, spring and summer again. Funny, can't remember much sunshine...
The running-in period was painless enough. The car arrived in August 2003 with 60 miles on the clock, but Vauxhall asks only that you keep the revs below 4000rpm for the first 800 miles. Considering that the VXT produces its peak torque figure of 184lb ft at only 1950rpm that's hardly a chore and 1000 miles were up within two weeks. A trackday followed on the full Silverstone GP circuit and the VXT proved more than capable of hanging on to some of the more gently driven Porsche GT3s. The tyres were barely touched, the brakes lasted well (although when hot the ABS triggers very easily and really dents your confidence) and although the VXT is a bit soft for pure track thrills I can't imagine any occasional trackdayers complaining.
The VXT wasn't as impressed with my track performance as I was with its showing and in protest decided to develop a gearbox fault. Every time I tried to hook reverse there was a nasty graunch and what seemed like a nuisance was soon diagnosed as a serious problem. KE03 HJN was out of action for the best part of a month while Vauxhall waited for a new gearbox and I was relegated to bigger, lardier 'sports cars' while the VXT languished. Logging on to www.vx220.org.uk revealed that the gearbox failure wasn't a common fault and that plenty of modified cars (with up to 280bhp) were experiencing no problems at all despite big power increases.
By the time KE03 HJN was delivered back to Evo Towers, winter had drawn in. Lots of rain and mud on the road meant lots of rain and mud on me as I clambered over its wide sills every morning and evening. Frosty mornings are even more fun. Thick ice on the inside of the screen, frozen locks and a puny heater combine to make the VXT marginal winter transport, but with the heater on full blast it's just enough to take the chill out of the air. It copes incredibly well with streaming tarmac, though. You'd expect it to fizz into wheelspin with little provocation and fail to lock its nose on line but it's both grippy and adept at dealing with its torque.
More than a few VXTs have met an untimely end after an inappropriate prod on the throttle (we've seen the evidence on various websites and through reader's e-mails) and there's no doubting that a short wheelbase and 197 mid-mounted horses can be a recipe for disaster, but drive it sensibly and heed the unfiltered messages through the steering and the VXT makes brilliant and safe progress even in the most miserable weather. It can bite, of course, but Vauxhall and Lotus have done a fabulous job building a large degree of safety into this chassis whilst retaining nearly all the nimbleness of an Elise and crucially keeping the challenge alive for more experienced drivers.
By Christmas the VXT's most annoying foible had taken hold and the engine was spluttering in protest. Heavy rain was the culprit, or rather shoddy seals around the spark plug housings that allow rainwater to soak the plugs and coils, and although a fix already existed it took an awfully long time to get it fitted to our Coral Blue VXT. The retro-fit engine cover (already adopted as standard production issue on newer VX220s) took forever to reach Vauxhall dealer W Grose in Northampton and when it was fitted (in July 2004!) the second set of coils and plugs were damaged beyond repair. Unfortunately Grose didn't see fit to replace them so the VXT dropped onto three cylinders within a day of the 'repair'. Nice work.
Bad service from W Grose marred my relationship with the VXT. The car went in for its first service (booked a week in advance) but wasn't ready for another week because some of the parts hadn't been ordered in. Previously we'd replaced the brake pads at a cost of an astonishing £485.20 only to find that the car hadn't even been cleaned, and then that old spark plug problem re-emerged within a day of having the engine cover fitted.
Grose refused to collect the car and put right the problem once and for all. After several calls to the AA and two visits to the dealership I felt I'd lost enough time trying to solve the problem but 'insurance difficulties' meant I'd have to take more time off work to drop the car off there. At least I was offered a courtesy car.... oh, sorry, I mean nobody even bothered to raise the possibility.
Maybe I'm being especially pernickety but these designated VXR dealerships need to focus a bit more on customer service. With the arrival of the Monaro VXR, they're now handling cars worth up to £35K and customers used to BMW-levels of service won't tolerate a sub-standard after-sales experience.
Enough of the griping. The VXT was still providing plenty of thrills once away from the dealership and after a morning spent at AMD in Bicester they got bigger, faster and massively more furious. A full Milltek/VXR stainless steel exhaust system complete with 200-cell cats and a heavily tweaked ECU saw power jump from a measured 204bhp and 190lb ft to a slightly illicit 244bhp and 250lb ft. Rolling road figures are always difficult to verify but the subjective difference is huge. The noise is fabulous, not thunderous or boomy but rorty and ramping up as the revs head skywards towards a heroic war cry. In sheer accelerative terms the figures add up, too. Pre-AMD upgrades, KE03 HJN hit sixty in 5.1sec and stormed to 100mph in a searing 13sec flat. In slightly cooler conditions the car managed 4.7 and 11.7 respectively over the same benchmarks. Impressive gains for the £2144 outlay and the in-gear figures are even more impressive.
The black and tan interior has worn well despite me having to drag myself over the sills before dropping into the thinly padded seats numerous times each day. Unfortunately the paint finish on the outside isn't as durable and the front is peppered with stone chips; there's also some orange peel on top of the driver's side rear wing. That's a real shame because the VXT still looks incredibly taut and modern when clean and from a distance could pass for brand new.
So it's been an eventful year or so with our VXT. There have been lows aplenty but somehow the driving experience has always helped the VXT climb out of the troughs and onto some memorable highs. It was fabulous on the testing Col du Vence high above Nice when it went down to meet the new Elise 111R and after the AMD upgrades it had a keener edge. You have to be smooth with the steering and throttle in the wet with all that torque but in the dry it's devastatingly rapid.
At the outset of this loan we hoped to discover if the VXT was a genuinely usable everyday sports car but after 13 months the answer isn't clear cut. It coped well with wintry road conditions, covered big distances to northern England, Wales and France, and the boot proved surprisingly commodious for two. The picture was coloured by mechanical niggles and some quality issues (specifically the paintwork). Perhaps most telling was that it failed to rack up as many miles as we'd expected, though I used it every day for commuting and for longer weekend trips.
The moral seems to be that the VXT is a great second car. You can cover big distances in it and even use it every day through winter but you might just enjoy it more if you save it for those occasions when you can really use it. Do that and you won't be disappointed.
Running Costs
| | |
| --- | --- |
| Date acquired | August 2003 |
| Total mileage | 12,911 |
| Duration of test | 13 months |
| Average MPG | 28.5mpg |
| Servicing costs | £108 |
| Consumables | £485.28 (brake pads) |
| Extra costs | £2144 (exhaust and ECU) |
| Price new | £27,610 (as tested) |
| Trade in value | £19,000 |
| Depreciation | £8610 |