Caterham R300
It hasn't taken me long to damage the Caterham. Or to be more exact, it hasn't taken long for the local council's decision to build the world's most ridiculous speed humps outside my house to claim the life of the Seven's low-slung air scoop. These 'humps' are quite simply enormous and in our street the most notorious of them has been nicknamed the 'north face of the Eiger'. To reach the summit in the Caterham requires an approach speed of less than 3mph. Any faster, I've discovered, and you'll hear the sic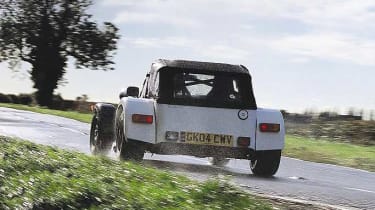 It hasn't taken me long to damage the Caterham. Or to be more exact, it hasn't taken long for the local council's decision to build the world's most ridiculous speed humps outside my house to claim the life of the Seven's low-slung air scoop. These 'humps' are quite simply enormous and in our street the most notorious of them has been nicknamed the 'north face of the Eiger'. To reach the summit in the Caterham requires an approach speed of less than 3mph. Any faster, I've discovered, and you'll hear the sickening scraping sound of £181 going down the tubes.
Perhaps I should send the bill to the council - there must be a limit to how mountainous and awkward they can make these things. Imagine if you had an even more extreme trackday machine in your garage, like a Radical or Westfield WTR2. After these new Alpine traffic-calming measures had been installed, your car would be trapped forever.
Still, I haven't let that put me off using the Caterham regularly and getting some decent miles beneath its tiny 13-inch wheels. Being so low to the ground it seems to get completely filthy in a matter of minutes on the dirty roads at this time of year, and to keep the salt from eating the chassis you need to wash it every time you fill it up. With a tank that holds barely 20 notes worth of fuel and a low- 20s mpg figure, that's quite a lot of jet washing.
These cold, greasy conditions really keep you on your toes, too. The R300 slides and squirms all over the place as the lack of mass means there's nothing to really push the tyres down into the tarmac. You can still make decent progress, but it requires finesse behind the wheel and you want to be a gear or two higher than you usually would be. The gearing's so short you can just slot it into sixth and leave it there as you exit a village.
The stiff rear suspension doesn't help traction when roads are like this and it can jar over bumps and pot-holes. It actually felt overly stiff to me, so I asked Caterham to replace the dampers while it was in for its nose-job, but the new set feel just like the old ones. Softening the anti-roll bar has improved cornering grip a little but the R300 still feels like it's set-up for the track rather than the road. I guess I'll just have to make the most of it and book myself onto a trackday...
Running Costs
| | |
| --- | --- |
| Date acquired | Date acquired: July 2004 |
| Total mileage | 4291 |
| Costs this month | £181 (see text) |
| Mileage this month | 1423 |
| MPG this month | 23.1 |