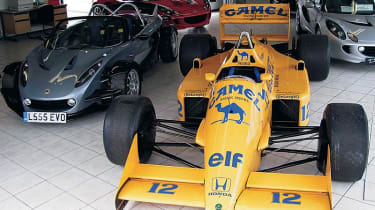 Our lesser-spotted 340R came out of hiding this month for a guest appearance at the opening of a new Lotus showroom at Dick Lovett's in Swindon (it's directly next door to Lovett's plush Ferrari/Maserati showroom, making a visit doubly worthwhile).
Rather embarrassingly, it took three goes with a steam cleaner for the guys at the showroom to remove the thick layer of grain-dust that the 340R had gathered in the farm's sheds over the winter, but after much effort they finally managed to uncover the original paintwork.
It's still not a runner, though, as the non-standard race battery has died again, despite regular charging by me over the winter. Fortunately it's so small (my lawnmower boasts one twice the size) that it can be swopped without need to remove the bodywork first, via the inspection panel that's designed to allow you to replenish the washer bottle, just behind the front radiator.
Incidentally, the sporty yellow number beside our long-termer is the 1000bhp Lotus Type 99T driven by Ayrton Senna in 11 Grands Prix during the 1987 season. He scored two wins in this very car, at Monaco and Detroit, along with five further podium finishes and several other points finishes. Not too shabby, then. Bet they gave Senna a decent-sized battery...
Running Costs
| | |
| --- | --- |
| Date acquired | July 2000 |
| Total mileage | 11,950 |
| Costs this month | A tub of elbow grease |
| Mileage this month | 20 (yards) |
| MPG this month | Er, nope |