Lamborghini LP640
An admiring white van man nearly pushes the LP640 off the road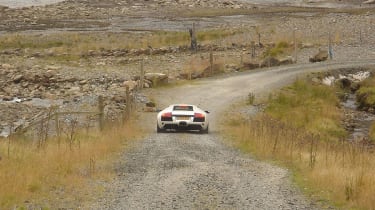 I'm probably preaching to the converted when I curse the filthy roads we endure in our green and pleasant land at this time of year, but Pearl White really isn't the best colour for disguising dirt and I seem to be spending as much money on jet-washes as petrol at the moment.
Actually, come to think of it, I'm not. You must have noticed how big the numbers on the pumps have been getting recently. Given my mode of transport, you won't be surprised to hear that I certainly have. OK, given the sort of mpg figures that an LP640 returns in lively driving, I know I've only got myself to blame, but brimming the Lambo with high-octane now costs well into three figures.
Still, dirty roads and outrageous fuel prices or not, I'm pleased to report that LP07 is still as hugely addictive as ever and the perfect antidepressant. Well, at least until its tank is nearly empty again…I've not yet had a chance to fit the Tubi silencer I mentioned recently. It's still on my to-do list (if only to annoy the neighbours!) but for the time being I've had the valves in the Lambo's exhaust wired open.
What a difference! It doesn't leave you requiring a hearing aid like my old orange Murciélago did when fitted with its Tubi, but you do get a lovely snarl when you blip the throttle and a gorgeous howl as the rev needle whips by 4000rpm.
As the Lambo spent plenty of time on track last year, I had to replace its big rear tyres for the first time recently. (£570. Ouch!) Good job I did, though, because I couldn't resist pointing the LP640's nose towards a favourite retreat north of the border over the New Year. With a bit of drifting snow camouflaging LP07 and decorating the A827 near Aberfeldy, the big Lambo's weight and stability really came into their own.
The biggest danger wasn't the weather, though, but the white van man on the M90 who decided to record the LP640 on his mobile phone while steering with his knees and sitting so close to the Lambo's rear bumper that I couldn't see his headlights. Goes with the territory, I suppose, but it's one of the few aspects of supercar ownership I don't enjoy.
Running Costs
| | |
| --- | --- |
| Date acquired | August 2007 |
| Total mileage | 6204 |
| Costs this month | £570 (rear tyres) |
| Mileage this month | 690 |
| MPG this month | 10.2 |