Lotus Elise 20th Anniversary Special Edition unveiled
An even lighter Elise celebrates 20 years of the iconic car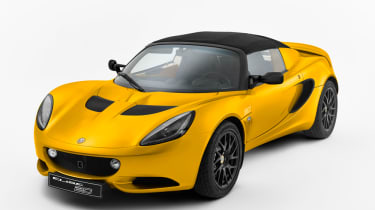 Lotus has revealed details of its new Lotus Elise 20th Anniversary Special Edition. Celebrating 20 years since the mid-engined roadster's 1995 Frankfurt motor show debut, the new 1.8-litre supercharged model replaces the Elise S Club Racer.
Fitted with the same four-cylinder engine as the Elise S, the 20th Anniversary model produces an identical 217bhp at 6800rpm and 184lb ft of torque at 4600rpm as the S. Fitted with a close ratio six-speed manual gearbox 0-62mph is achieved in 4.6sec and top speed is 145mph. Efficiency improves, with 47.6-combined mpg possible and 173g/km of CO2 produced (compared to 45mpg and 175g).
Lotus has also managed to shred a precious 10kg from the Elise S's 924kg weight thanks to the fitment of lighter forged alloy wheels, centre console and sports seats, the latter finished in leather.
A new sport mode is also included and alters the car's mapping to improve throttle response and also to slacken the traction control.
The Elise 20th Anniversary Special Edition is available in four classic Elise colours: blue, green, yellow and silver, with a matte black rear diffuser, wing mirrors, roll hoop and rear transom providing the contrast. Elise 20th Anniversary logos are added to the dash, seats and front wings.
Jean-Marc Gales, CEO of Group Lotus plc says of the Elise: 'over the years we have improved and refined the Elise, but we have also ensured that wehave retained the purity of the driving experience, for the Elise to remain as the sports car to which other marques aspire.'
Orders can be placed for the 20th Anniversary Special Edition now, and will cost you £39,900, a £2700 increase on the current Elise S. For those wishing to enjoy a basic Elise in the spirit of the original, Lotus will still sell you a 1.6-litre, 134bhp model.
Over 32,000 Elise models have been sold in the past 20 years, and while Lotus has been through some tough times during the last two decades it has still managed to build some of the best sports cars you can buy. Long may it continue to do so.