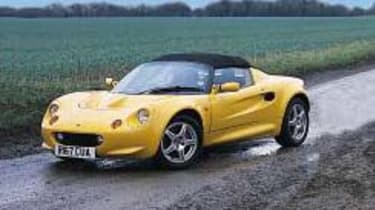 Winter's icy breath is whispering that the season of fun is over for the Elise, but before tucking it away to wait for the return of clement weather, I've had to take stock of the condition I'd let the Lotus get into. The wake-up call came when a headlamp bracket rusted through and the offside light fell into the clamshell. While the car was in at Stratton Motor Company for remedial work, I also had the steering wheel straightened up and a missing bolt replaced on the engine cover.
Inspired, I decided to attend to the hood and interior, both of which were looking bedraggled. The hood has always leaked and I was thinking about spending £250 on a replacement when someone at Lotus suggested a refurb instead. For £41.14 my hood was restitched, its plastic header rail fixtures were replaced and its internal wiring re-tensioned. Next up, an interior refurb, which has made the Elise look and feel like new. For £430.10 for the pair, Lotus re-upholsters (in leather and cloth) and re-pads donor seats, while reconditioned sill trims retail at £51.96.
It's like having a new car again. If you want to revive your Elise, e-mail Mel Broome on mbroome@lotuscars.co.uk for more details.
Running Costs
| | |
| --- | --- |
| Date acquired | September 2002 |
| Total mileage | 59,603 |
| Costs this month | £595.46 (see text) |
| Mileage this month | 627 |
| MPG this month | 37.2 |