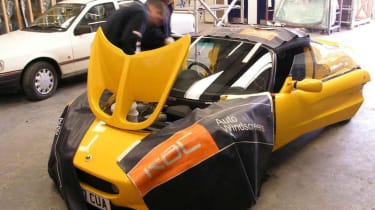 It started as a stone chip. Then it became a little crack, but I thought I'd leave it. I can't quite remember the point when it lengthened to connect the base of the Elise's windscreen with the top, but the crack eventually became so annoying, not to mention a sure-fire MOT failure, that something had to be done about it.
Luckily my wife has a keen eye for small print and discovered that I could claim for a new screen on my insurance without hurting my hard-earned no-claims bonus, though I would have to cough up the £60 excess.
Of course, the Elise being a comparative rarity, it took a little while for RAC Windscreens to order a screen in, and the job took a little longer than the two hours I'd been quoted, but it seemed worth the wait once I'd taken my first look through the crack-free glass. Out of curiosity I asked the fitting guys what a replacement screen would have cost me had I not had the insurance cover. Rather shockingly, the retail price is £1000. Checked your policy recently?
Running Costs
| | |
| --- | --- |
| Date acquired | September 2002 |
| Total mileage | 61,651 |
| Costs this month | £60 (insurance excess on windscreen replacement) |
| Mileage this month | 383 |
| MPG this month | 34.7mpg |