Lotus Esprit V8 (2008) buying guide
There's no more affordable way to join the supercar set than with this 349bhp version of a British legend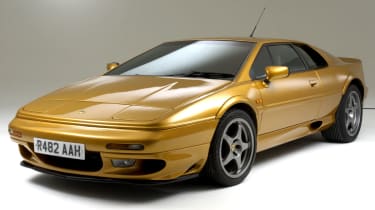 Over the years there have been so many horror stories surrounding Esprit ownership that they've given rise to an almost legendary saying that inevitably gets wheeled out the moment someone mentions they're thinking of buying one: 'You know what LOTUS stands for? Lots Of Trouble…' You know the rest.
But that's not the whole story. It is possible to buy a non-cash-intensive Esprit, if you know what you're doing. Narrow your choices to a specific model, gen up on the details and check out as many cars as possible and you have half a chance. Homework is the key, and we reckon the V8 offers the ideal blend of availability and automotive exhilaration.
Engine
From the moment the first Esprit arrived way back in 1976, Lotus enthusiasts badgered the factory for an eight-cylinder version to add the soul that was lacking in the four-cylinder's soundtrack and the extra performance that the chassis was clearly capable of handling. Twenty years later they finally got their wish (although it has to be said, the flat-plane-crank engine was sonically disappointing).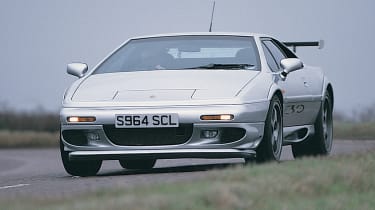 Of course, by the time the Esprit reached this point in its life the wedge-shaped old-school supercar had gone through a number of incarnations, but the Peter Stevens version held the same values (and same basic structure) as the original Giorgetto Giugiaro S1: a perfectly proportioned paper-dart profile, hardcore driving dynamics, brilliant damping and kidney-thumping acceleration.
What's it like to drive?
The Esprit's handling is a unique pleasure. The steering is as precise, delicate and detailed as you'd expect from a Lotus, while grip is huge and body control exemplary. Climb into a V8 and the poor, mid-'70s ergonomics and lack of all-round visibility are intimidating at first, but the chassis inspires so much confidence that these initial distractions count for nothing when you start driving. The Esprit is a true drivers' machine and for many the ultimate expression of what Chapman and Lotus were all about.
And if that isn't enough to tempt you, maybe the prices will. It's quite possible to pick one up for as little as £14,000. Furthermore, Esprits are usually owned by Lotus devotees who live and breathe the marque and its history; consequently the cars are often immaculately maintained, wanting for nothing. Prise one of these V8s from its loving owner and you will bag yourself a full-blooded, 349bhp British supercar for the price of a hot hatch…
Performance and 0-60 times
It has been said that the R&D of the V8 engine alone cost Lotus £5.5 million – staggering when you consider that the entire Elise budget came in at just £4 million. However, when you experience a V8 Esprit it's hard to say that the money was wasted. The flyweight 3.5-litre all-aluminium engine uses two low-pressure turbos running at just 0.5bar to produce 349bhp at 6500rpm – enough to comfortably see off virtually anything else in the car's original £60,000 price bracket.
Needless to say, when it arrived in 1996 the V8 brought quite a leap in performance over the 300bhp turbo four-cylinder S4S it replaced, being able to dispatch 0-60mph in 4.2sec, then passing the ton just 6.1sec later on its way to a 175mph top speed.
Anything else I need to know?
In March 1998 the V8 was joined by the V8-GT, essentially a £10,000 cheaper, stripped-out V8. A year after that came the bescooped and bewinged Sport 350, a run of 50 £65K specials that shaved 80kg from the standard car's weight. At the same time the V8 became the V8 SE; as we'll see, these cars were more reliable than the original V8 and are worth paying extra for – they're easily identified by their higher wrap-around rear wing.
For its last hurrah, in 2002 the V8 gained Ferrari-esque circular rear lights, new OZ wheels and the Sport 350's brakes and front spoiler. Production ended in February 2004 and in total just short of 1500 V8s in all forms had been built.