Lotus Exige (2008)
Reliable, cheap to run and, above all, an absolute riot to drive, a Series 2 Exige could be in your garage for as little as £15K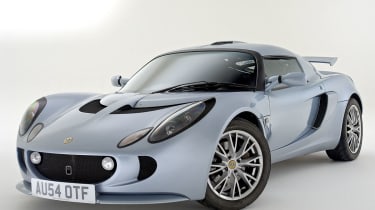 There's more than one way to skin a cat. We've taken the LPG path to lower fuel bills (see page 148 for the latest update on our Alpina gas-conversion project), but there is another way, you might call it the Chapman way – performance through added lightness.
An efficient, low-mass powerplant wrapped in an anorexic body has always paid dividends at the pumps, but, hey, who are we trying to kid? You don't buy a Series 2 Lotus Exige to save money, fuel or even the environment; you buy one for the sheer dynamic thrill and astonishing pace it serves up both on road and on track. All that other stuff is nothing more than a convenient conscience clearer that makes the purchasing decision that bit easier.
Not that we've ever had any problems with buying one. evo's former editor-at-large, Richard Meaden, spent his own cash on an Exige, and there can't be any stronger recommendation than that. Dickie didn't need to buy one – he had permanent access to some of the world's greatest sports cars – yet he still got his wallet out. He bought one simply because the urge to own an Exige was too great to resist, and now the temptation is stronger than ever, because those early cars are on the market for little more than half their original list price.
Buying a second-hand Lotus isn't the gamble it once was, either. The rev-hungry 1.8-litre Toyota unit has brought Japanese reliability to the oily bits, while the chassis, suspension and brakes have long since proved to be strong performers in every Elise variant. That lack of bulk ensures longevity in the components too, simply because it reduces the amount of stress they're under, and that makes for running costs that are markedly lower than those for other motors that offer similar performance using a sledgehammer approach.
There are many reasons to plump for an Exige then, but by far the most compelling of all is the way it moves. Here's all the info you need to land yourself a belter.
Driving one today
Find yourself a quiet B-road and the Lotus becomes an enthralling ride. Every corner is a target to attack, and the Exige can be placed with pinpoint accuracy while carrying a faintly absurd amount of speed. Some of that astonishing grip comes from the lightly treaded A048 Yokohama tyres, but the stiff yet supple chassis set-up optimises them, working the rubber into the tarmac so fully you'd expect it to last no more than a few hundred miles (where in fact you should see around 9000 from a set of Yokos).
The engine, with its long-lift, high-duration valve timing that comes on tap at 6200rpm further promotes a full-on driving style, because while mid-range progress decent enough, the accompanying engine note is somewhat ordinary; the Exige is only truly alive in the hot zone.
Any negatives? Well, brake feel is an Achilles heel – there's some dead travel at the top of the pedal, where it should be race-car firm – but to be honest you soon adapt to this and just revel in the brilliance of the chassis.