Mazda developing all-new Skyactiv straight-six engines
Mazda's new straight-six will feature the firm's clever compression ignition tech, and sit in an all-new architecture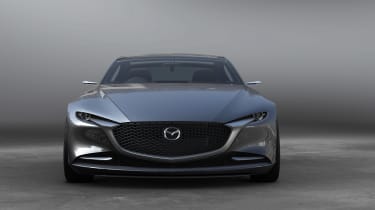 Mazda, a brand famous for going its own way in terms of technical development, looks to be bucking yet another trend. The company is developing an all-new straight-six internal combustion engine.
The news was apparently announced at an investor conference as part of the manufacturer's short- and mid-term investment plans. It means Mazda might well be joining BMW and Mercedes-Benz in offering a smooth, modern straight-six unit in its cars.
> Click here for our review on the Mazda 6
Designed to headline a new development drive, the new straight-six will be available in both petrol and diesel forms, the former featuring Mazda's clever Skyactiv-X compression ignition system.
Unsurprisingly given the inherent physical dimensions of engines with six inline cylinders, the new unit will be engineered to sit longitudinally on a new platform that will also feature optional all-wheel drive. There is no further information about whether this new platform will be front- or rear-wheel drive as standard, but we know it will support both 48V mild-hybrid and plug-in hybrid applications too. As it's due to be available with a diesel option, we have reason to believe this new power unit will feature in models for Europe, as well as in the US, Japanese and Asian markets.
What Mazda cars will be based on this new platform are as yet unknown, but we suspect a future Mazda 6 saloon and estate, and a future CX-9, the seven-seat family SUV not available in Europe, are the most likely candidates. The possibility of a successor to the RX-8 is also impossible not to hope for, even if that remains a less likely scenario.
Timings for all of this new tech are also still unknown, but with mounting pressure on internal combustion engines thanks to new legislation, we suspect Mazda won't want to wait too much longer to launch its new flagship engine range.