Mazda MX-5 2.0i Sport Tech
Confidence is growing weekly but the adopted owner of our MX-5 still has to find the car's handling limits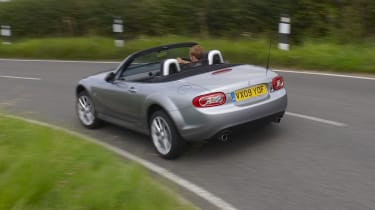 I'm not even close to being a 'Top Gun pilot', as we here in evo's art department call our road testers. I have a degree in Crayola doodling, not oppo dabbing, so it's slightly concerning that the MX-5 is the first rear-wheel-drive car I've run. Even though Mazda's roasdter isn't the most insane rear-driver, boasting a mere 158bhp in this 2-litre guise, I don't feel as at ease with it as I do with, say, our Civic Type-R.
It's amazing to watch how professional racers and road testers manage to catch and correct the back end every time there is so much as a twitch – it's second nature to them. But when I'm driving the little Mazda I find myself wondering how much I can really push it around each corner. Other thoughts soon follow… What would happen if I panic and brake hard mid-corner? What would happen if I get on the throttle too soon? And, perhaps most importantly, would I be able to correct the situation if the car didn't snap back of its own accord?
My confidence with the MX-5 is growing week by week, but these questions need answering. Driver training is the obvious remedy, so I'm looking into it.