Mazda MX-5 2.0i Sport Tech
A surging at low speed was unwelcome, but a factory software upgrade soon sorted things and smoothness was restored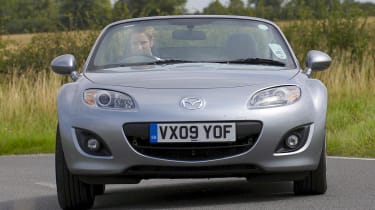 It's funny how you can think you're imagining things. When we first got the latest-shape MX-5 I was sure I could feel it surging slightly when I had it on a steady throttle, but I discounted the problem as a figment of my imagination. However,  John Barker, having driven the Mazda at Car of the Year last month, declared that my noggin wasn't playing tricks on me – there was almost certainly an engine management issue.
I phoned a Mazda dealer to book the MX-5 in and was warned that finding the cause of a problem like this could take longer than a day. But when I dropped the car off the next morning I was told that there was now a recall on all new MX-5s (that's what I call quick work!) for a software upgrade because of engine surging. A-ha!
When I picked the car up later that day it had been cleaned (nice touch) and the surging problem hasn't re‑occurred since. Perfect.
Running Costs
| | |
| --- | --- |
| Date acquired | August 2009 |
| Total mileage | 9180 |
| Costs this month | £0 |
| Mileage this month | 961 |
| MPG this month | 31.7 |