Stranded in Morocco with a McLaren MP4-12C – evo archive
Police and customs weren't to be trusted. Thankfully the MP4-12C was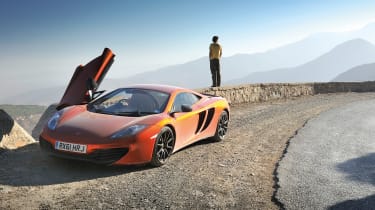 RX61 HRJ is a car that I remember particularly fondly. It was, as I'm sure you recall, a Volcano Orange McLaren MP4-12C and I was its custodian on two occasions. Once was when filmmaker Sam Riley and I drove from Woking to Monaco over a period of about four days to make a film that you can still see on YouTube. Every day we left before the first breakfast egg had been cracked, ignored all of the official route and turned up long after the dinner nosebags had been emptied. We scaled the 2715m Col de la Bonette with snow lying thick at the roadside and turned up in Monaco with a filthy car that hadn't missed a beat.
And apart from the fact that it felt like it had about 800bhp, it was that reliability that was possibly the most noteworthy thing. The dashboards on those first MP4-12Cs were often lit up like the Singapore Grand Prix. Former evo editor Nick Trott later ran a 'cherished' 12C on the Fast Fleet for a few months and it had multiple trips back to the dealer for a variety of issues. But every time I was asked about reliability I could only report experiences of a faultless car.
> McLaren MP4-12C: review, specs and buying guide
So, for HRJ's second term of employment I went one stage further. I didn't actually know it would be HRJ that I'd be picking up in Malaga, but it was nice to see an old friend again when photographer Dean Smith and I emerged from the airport. From Malaga it was a brief jaunt to Algeciras and then a short bob across the Strait of Gibraltar to Tanger Med port in Morocco (not Ceuta as was written in the mag). It took an entire night and some of the next day to convince customs that the paperwork was all in order, but eventually we emerged… straight into the clutches of some cops that wanted a bribe.
The tale of what happened next can all be read in issue 173, but the general gist is that we drove south over the Atlas Mountains via the beautiful Tizi n'Tichka pass, flirted with sand storms and sweltering heat in the northernmost reaches of the Sahara Desert, and then popped back over the extremely narrow, potholed and hazardous Tizi n'Test pass. In fact we tackled the Tichka twice in order to get some additional photos.
Once again, through all this, the MP4-12C proved to be the Toyota Hilux of supercars. It was bombproof. Even when we had to fill up at the sort of remote and dilapidated fuel station where you wonder how they get the donkeys to piss in the tanks, the McLaren didn't complain. There were two McLaren technicians with us 'just in case', but they stayed in Marrakesh and enjoyed the nightlife.
Incidentally, although I told the debacle of getting into Morocco, I'm not sure I ever mentioned that I also struggled to leave. We went out via Ceuta port and it should have been plain sailing. Except that customs wanted to see inside the large (but unused) toolbox that one of the technicians had left in the car. The toolbox was locked, so I rang Dean who had walked on through the port with his photo equipment and the two techs.
'Hello Dean.'
'Hello.'
'Where are you?'
'At the bar.'
'Which bar?'
'The one on the ferry.'
'Not the ferry that I can see leaving port, I hope?'
'…'
Alone in Morocco with a reliable McLaren, perhaps I should have turned round and made a run for it.